The Hunter Valley is home to more than just boutique wineries. It's filled with quiet valleys, arresting road art, oddly enough, amazing burgers. Liz Schaffer chowed down on burgers on the road less travelled. 
My Hunter destinations were the charming, historic towns of Wollombi, Morpeth and Paterson, which are normally just over two hours north of Sydney. That's the road well travelled. I abandoned the F3 for the convict built Great North Road, adding a few scenic hours to my drive.
First stop Wollombi, a village drenched in historic sandstone buildings, picturesque fields and quirky locals who swear by their 'jungle juice'. It was here that I encountered my first truly amazing burger.
Known for its constantly roaring fire and cheerful staff, Shea's @ Wollombi offered vegetarian and Cajun chicken burgers that were everything cheap country grub is meant to be – fresh, colourful and perfectly filling. They also came with a side of chips that looked, and tasted, as if they had just been pulled from the earth.
Feeling a tad over-stuffed I continued ever onward to Morpeth. It's difficult to believe this peaceful, postcard-perfect town had been one of our busiest inland rail and river ports, or that its founder was a sword-wielding hero of the Napoleonic War.
Suspecting that another burger was necessary I strolled into Savannah on Swan and indulged in a spiced lamb burger on sourdough. Strangely, I was more besotted with the bread than anything else. Made daily in the original Arnotts bakehouse just up the road it was rich without being stodgy and I swear I could still taste the yeast. Perhaps it was the neighboring field of innocently grazing sheep that put me off the burger.
To counteract my gourmet meat-eating guilt I spent the remaining afternoon hours exploring Morpeth's 19th century wharves and shop fronts. A stand out was the former CBC bank building, which comes with Italian fireplaces, porcelain servant's bells and an impressive cedar counter.
If you're still peckish stop at Crisada's Riverview Café where the creative range of burgers are almost impossible to finish. Likewise, despite its humble appearance, Graze Deli and Takeaway has nabbed numerous local awards for its burger selection. After devouring their tangy fish burger it was easy to understand why.
For an additional dose of history pay Paterson a quick visit. This tiny little hamlet contains an assortment of churches, museums and riverside walks, as well as a hotel with a rather tragic history. The Courthouse Hotel began its life just north of the town as The Cricketers Arms yet a major flood in 1875 rendered it uninhabitable. Despite changing its name and location, flood and fire still plagued the building in the 1930's and 60's, making you wonder what it did to earn such bad karma.
Not wanting to take any chances I dined in the unassuming Paterson Country Café instead. The traditional burger seemed to melt in my mouth while the huge veggie burger was an appetising kaleidoscope of colour. Both came in at under $8. Ask the café staff for a walking tour pamphlet and let your meal digest as you amble past the original horse drawn hearse garage, artistic rust buckets, and letterboxes shaped like yellow submarines. Sights like this make returning to the big smoke a rather unappetising option.
Nevertheless, the expedition had been a success. I'd found six perfect country burgers, stoically avoided those famous wineries and seen just what lies waiting to be discovered (and devoured) off the F3.

Shea's @ Wollombi
02 4998 3137
Savannah on Swan
128-130 Swan Street
Morpeth
02 4934 6420
Crisada's Riverview Café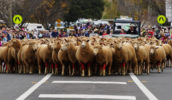 144 Swan Street Morpeth 
02 4934 1356
Graze Deli
133 Swan St
Morpeth
02 4933 6146Paterson Country Cafe
24 King St, Paterson
02 49385135