Just in time for Valentine's Day, AT's Dorian Mode kicks off a regular new romantic section, bringing you his favourite weekend dream destinations from around Australia. First stop: The Tower.
In AT's Most Romantic Getaways feature in issue #018, it seems I hit a raw nerve. I imagined there was a load of you out there who, like me, occasionally took your partner for granted and you sometimes need to make amends by emptying out your wallet over them. So, from now on in each issue I'll present you poor, miserable sods with an accessible romantic holiday in order for you to save your relationship. Until you stuff up next time, that is. We inevitably do.
THE TOWER, HUNTER VALLEY NSW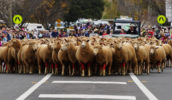 Australia owes much of its current status in the world of vino to the extraordinary vision of the wonderful late Len Evans. When he created The Tower, his goal was simple: to offer the best in food and wine that this little continent has to offer its fellow denizens. (And make loads of cash no doubt.) So be prepared for the meal of your life in Roberts, the top-notch restaurant on the Tower's estate.
In the evening they hand you a torch at reception and you wind your way from The Tower via the vineyard by drowsy torchlight to find the restaurant (or end up somewhere near Singleton looking for a KFC). The restaurant, lit with fairy lights, looms in the country darkness like something from A Midsummer Night's Dream. Mucho romantico, my friend.
The hotel itself is an eclectic mix of Moorish palace-cum-Roman villa. And its quirkiness really works, nestled in the Euro-centric vineyards of the Hunter. The décor has a feel all its own with exotic tapestries and Moroccan lamps, stunning oriental antiques and quirky guestrooms with a display of opulence that would make Osama instantly trade in the cave. Enjoy an alfresco breakfast in the courtyard or take a dip in the heated outdoor pool to wash away your fine wine hangover. If you choose the Chairman's Suite, you'll be sleeping on a 300-year-old Rajasthani bed under crisp 600-count Egyptian cotton sheets – that's a lot of Egypt! (And blokes, girls love nice sheets for some reason.)
Other rooms are filled with stunning oriental curios. And hey, there's even a hot tub in your room fashioned out of a 1000-gallon oak wine barrel. Water restrictions limit spas to odd days only. (Just kidding! They have loads of water in the Hunter, so stew yourself silly.)
And for Melburnians, if you haven't realised it yet, the fact that Tiger Airways now flies direct to the region makes your next romantic sojourn more accessible than ever before (www.tigerairways.com.au). And for an even more extravagant experience, Sydney Seaplanes have joined forces with some of the Hunter's foremost operators, including Tower Lodge, to offer package deals that will literally sweep your partner off her feet (www.seaplanes.com.au).
In summary, the Hunter is a romantic delight regardless of where you stay, but Len Evans' bequest to the valley will make your weekend truly unforgettable.
Ideal if // Your partner likes the orient or the Mediterranean or a just a touch of the exotic, if she's a foodie and loves the very best in wine.
Wallet pain // From $590 a double to $700 for the big knob suite.
Where // The Tower is but a short, painless 2hr drive from Sydney. Contacts // (02) 4998 7022,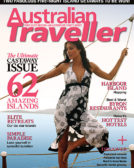 Enjoy this article?
You can find it in Issue 19 along with
loads of other great stories and tips.