Tim Richards referees a title fight in Sydney's historic Rocks precinct to determine exactly which pub is the oldest in the Harbour City.
The most ancient part of Sydney, The Rocks, is seething with historic old drinking houses (some with historic old drinkers), but which is the oldest Sydney pub still standing? Initial research provides a shortlist of four that could possibly claim the title; in fact, two of them do positively lay
claim to it. So, fired with curiosity, I'm off on a pub crawl through The Rocks and its sister suburb, Millers Point. I also talk to Monique Galloway, Special Heritage Project Officer at the Sydney Harbour Foreshore Authority. If anyone can settle this argument, I figure she can. Maybe over a drink.
The Fortune of War
The Fortune of War looks like a veteran pub that's survived a few conflicts itself, and the armed forces memorabilia in the room behind the bar confirms it. The current premises were built in 1922, and many a Digger had his final beer here before embarkation on a troop ship heading toward the battlefields of WWII.
Those days are long gone, and the Fortune is now embedded deep in tourist territory, a stone's throw from Circular Quay. The narrow premises are still reminiscent of the old days, with their scuffed wooden beams, tiled walls and over-patterned red and green carpet.
Owner Rob Keyes takes the pub's history seriously, and its walls are plastered with framed documents, including a list of licences granted to Sydney pubs in the 1830s. So are The Fortune's claims legit? "It depends on your definition," says Monique. "It's had a licence on that site since 1828, so it's the longest continuously licensed hotel on the same site. It's the third or fourth building that it's been in, though."
137 George St, The Rocks, (02) 9252 2006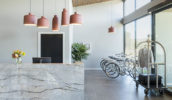 The Hero of Waterloo
Perched on a triangular patch of land in hilly Millers Point, The Hero has a surprisingly lofty interior, the ceiling held high above drinkers' heads by massive timber beams. The exposed stone walls are similarly monumental, with each block bearing the chisel marks of the convict who carved it. There's age here, but no feeling of tourist trap; the pub's more like a well-worn but comfortable boot that's been shaped by time to neatly fit. It has an age-worn fireplace, a humble upright piano and, because of its corner location, it's full of sunlight during the day. Below ground, Owner Ivan Nelson points to the remains of a staircase that once led down from above to the remnants of the famed tunnel, now filled in, that has been sensationally reported as aiding every function from smuggling to the kidnapping of prospective crewmembers for ships anchored below. But is it the region's oldest pub? Not according to Monique. "The Hero was licensed in 1842," she says, which makes it a little younger than the nearby Lord Nelson. However, it gets top marks for appearance. "I think the most authentic old pub is The Hero, because it hasn't really changed that much since it was built."
81 Lower Fort St, Millers Point, (02) 9252 4553
The Lord Nelson Hotel
This multi-faceted edifice offers accommodation, a restaurant and its own in-house brewery. It's roomier than The Hero, with similar convict-rendered stonework, and lots of light coming through the windowpanes from broad Argyle Street below Observatory Hill. The homebrews range from Trafalgar Pale Ale to robust specimens like "Nelson's Blood", described as having "espresso and dark chocolate flavours".
Owner Blair Hayden, to his credit, refuses to have pokies, one of the few in Sydney to do so. "I'm not against gambling, but I'm against gaming machines in pubs," he says. "Especially pubs with this history."
The bar decor walks a fine line between authenticity and kitsch, with naval flags hanging decoratively from the rafters and a chalk portrait of Nelson above the bar – but those convict stones and a good-natured crowd make the mix work. Not to mention a robust slug of Nelson's Blood.
Regarding its claim as Sydney's oldest drinking hole, it's all down to stone and mortar, as the Lord Nelson has always existed in this very space. "The building is older than The Hero of Waterloo by a matter of years," says Monique. "And the licence is older by a matter of months. It wasn't a pub originally, it was a house. It became a pub later, in 1841."
19 Kent St, Millers Point, (02) 9251 4044
The Australian Hotel
This WWI-era hotel features lots of wood panelling, a high moulded plaster ceiling and a curious collection of objects adorning its shelves, including ceramic kookaburras, classical statues with lampshades, luridly-coloured portraits and a very long roll of defunct tram destinations. "We like it how it is," says manager Nathan Tyler. "The Edwardian look is so appealing compared to the renovated timber and stainless steel pubs you see everywhere else."
The beer to order here is Scharers, a specialist brew from a small brewery in rural Picton. There are lots of places to park yourself, and the pizzas here are well regarded. There's also accommodation upstairs. But is it a contender for oldest pub? The name has certainly been around for a long time, but its continuity is uncertain. "We've had an Australian Hotel in The Rocks since 1824, originally near Circular Quay," says Monique. "In 1889 the name moved up here, then this one was built following the 1900 bubonic plague outbreak. But the licence isn't continuous and the publicans aren't the same."
100 Cumberland St, The Rocks, (02) 9247 2229
So there you have it: The Fortune of War wins a mention for the oldest licence on the same site, the Lord Nelson triumphs in the oldest building stakes, The Hero of Waterloo is impressive for its old pub authenticity, and the Australian has the oldest name. And with a schooner of Scharers going down nicely in the warm afternoon sun, as I sit outside the Australian within cooee of the Harbour Bridge, it seems to me like it's winners all round.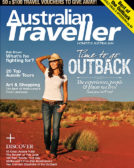 Enjoy this article?
You can find it in Issue 27 along with
loads of other great stories and tips.