Australian Traveller editor Greg Barton visits the Pinetrees accommodation on Lord Howe Island.
The next issue of Australian Traveller Magazine features a long article about the extremely top-end accommodation options on World Heritage-Listed Lord Howe Island, just two hours off the east coast of NSW.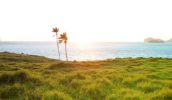 Just prior to deadline for that issue, we felt that the feature needed a little something extra, so I hopped a plane to the island to do a bit of concentrated research – and to produce the definitive list of "Ten Ridiculously Amazing Things To Do On Lord Howe."
With only 48 hours in which to experience as many as possible of the remarkable things the island has to offer, I chose to rest my head for the two nights at Pinetrees Resort Hotel, about five minutes from the local airport landing strip.
And I'm very glad I did.
The main accommodation focus of our mag feature coming up is with the ultra high-end Capella Lodge and equally fancy (but very different) Balinese-inspired Arajilla. The thing about staying at either of those places is that it seems a little – forgive me – over the top for an island stay. When I stay somewhere whose main activities involve the beach, walking, forests, the beach, fishing, the beach, snorkelling, more fishing and the beach, then I think I want to end up somewhere that embraces that "sand in your toes" philosophy – and gives me what I want for an achievable price.
The lodgings at Pinetrees do just that. They're very comfortable, minimalist, and bring to mind lost summers spent only yards from the shore. The kind of place where you lean your bike against the side of your "beach shack", traipse sand all over the place (and no-one's going to yell at you), hang your snorkel over the banister, flop down on the verandah and chat with the family in the beach shack next door.
That's very much the flavour at Pinetrees. In fact, while cycling furiously around the island, you regularly come across the "patrons" that stay at Capella. You can easily tell they're "patrons" and not just regular holidaymakers getting their feet sandy and noses sunburnt – because they're driving around in (or, worse, being driven around in) golf carts!
I'm sorry, but it seems kind of difficult to reconcile the idea of the good old Australian beach holiday with that of golf carts. So take my advice: retain your earthy sensibilities and go with the hired pushbike.
Don't misunderstand me — Pinetrees isn't "no frills". . . it's just the right amount of frills in fact. The food is plentiful and tasty. The breakfasts can be had with the entire resort or privately in your room. Evening meals are boisterous – there's a lounge with a piano, and one of the older clientele will more often than not climb aboard to bash out some old show tunes.
In short, if you're after a place with a great sense of community, friendly staff, lodgings that meet your every basic need and offer that authentic sense of a holiday truly spent at the beach, then Pinetrees is for you.
It certainly was for me.
DETAILS // Pinetrees Resort Hotel
Phone // (02) 6563 2177
Website // www.pinetrees.com.au
The Resort has five types of accommodation, plus a Three Bedroom Cottage (1 wc / shower room) and a Four Bedroom Cottage (3 ensuites).
Costs // Vary according to season, but for example a five-night package with all meals and island transfers from April to September start from $890 per person twin share.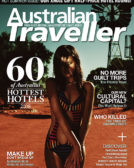 Enjoy this article?
You can find it in Issue 18 along with
loads of other great stories and tips.