A couple of hours north of Sydney, the city that was previously known for its steelworks and harbour has taken on a new life of its own, blending cafe culture and boutique shopping for a good old girls' weekend away. Virtual intern Ashleigh Green reports on a Newcastle hot spot
Newcastle. Australia's second oldest city. But 'old' and 'dated' are no longer the first words that come to mind as you enter Newcastle CBD. Actually, quite the opposite. With FairTrade cafes and boutiques lining the city streets, Newcastle is paving the way in sustainability… with style.
Before you read on, I suggest you highlight, circle or simply block out a Saturday in your diary. Now, grab some girlfriends and a Newcastle road map. Your first stop is Salawi.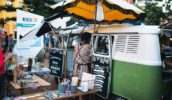 Salawi, a Fairtrade shop, cafe, art studio and yoga centre in the heart of Newcastle, began as the dream of Sal, a Dubbo girl who simply wanted to help people.
"I also dreamt of a cafe where people could come and feel a sense of connection," says Sal as we chat over milky cappuccinos and muffins. Surrounding me is an assortment of antique lounge chairs, African drums, Fairtrade handicrafts and a coffee machine. "I wanted something holistic, that all rolls in together," she says.
Salawi is among hundreds of businesses and individuals who are tackling poverty and supporting the FairTrade movement. Buying FairTrade assures you that the person who stitched your dress or grew your cocoa beans received a fair wage for their work. The concept is a win-win situation. You receive beautiful things, hand-crafted dresses and fine food. Yet you're rest-assured that no person has lost their dignity for your dress or chocolate bar.
In Sal's FairTrade Gallery and Lounge Cafe, everything fits. The photograph of a monk's toothless grin on the wall. Local indigenous artwork. The slobbery kiss of Sal's labrador. Nothing is out of place. But this uncanny perfection is the product of a long journey for Sal, a journey that has taken her to Africa and back.
"As a teacher, I fell into a welfare role with the girls," says Sal as she reflects on her life as a former PE teacher. "I wanted to teach all I could about worldliness and globalisation, to help students see the bigger picture." It became obvious to Sal that she needed an experience overseas. "This was much to the disgust of parents," Sal says, sheepishly.
Sal's vision for Salawi began after meeting many talented art designers in Africa. "Here were these people producing wonderful artifacts. The fabrics there were so vibrant, we don't have anything like that here." Sal saw that the most effective way for her to provide ongoing support to people in all areas of the world, was by importing goods directly from producers and ensuring that they are paid fairly.
In Malawi, Sal was called 'Salawi' by the local villagers. Sal remembers returning from the lakeside with some locals one day, when one of them said to her, "Look Salawi, our shadows are all the same."
And so, Salawi started. Sal spends her days teaching people that just as our shadows are all the same, so are our rights and the wages we deserve. "It's wonderful, people come in from the street not knowing the difference between free trade, fair trade, trade fair… and they ask questions," Sal says.
Located in the CBD of Newcastle, a morning at Salawi must be followed by a stroll through the boutique shops that line Newcastle's Darby Street. Blackbird Corner on 70 Darby St, is just a short walk from Salawi and stocks everything from Babushka cushions to beautiful clothing to wooden, squirrel buttons. Also worth a visit is Honeybee Goods on 162 Darby Street, which stocks beautiful Australian made fashion and FairTrade, sustainable goods.
Newcastle is becoming a town of trend-setting. As the first Australian city to make the Lonely Planet's 'hottest cities' list, the town is clearly in the know of what's 'hot'. So think small, independent, FairTrade and sustainable. And think Newcastle.
The details
Salawi – Contemporary Design Gallery & Lounge Cafe
462 Hunter Street, Newcastle, NSW 2300
Open 6 days. Monday – Friday, 8am – 4pm. Saturday, 10am – 2pm
NOTE: Ashleigh submitted this article as part of Australian Traveller's Virtual Internship Program. If you are a budding travel writer or photographer, click here to find out more about this opportunity.