Filming Newcastle Reels of Steel
Reels of Steel Newcastle, NSW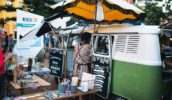 Amateur filmmaker Adeline Teoh takes AT behind the scenes of a 24-hour Shoot Out in Newcastle. And she can't wait for the credits to roll . . .
Midwinter isn't the best time to visit Newcastle – unless you're a filmmaker. Since 1999, mid-July sees the steel city host The Shoot Out, a 24hr filmmaking competition. The challenge is to forego technology and use originality and cinematography as weapons against the time limit to make a seven-minute (or less) film. The more level playing field pits pros against amateurs and while fame, glory and fabulous prizes would be a lovely result from my fourth effort, I entertain no such ambitions. For 24 hours of fun, I join a team of seven male first-timers, aged 18-20. This is their story . . .
FRIDAY
8:22pm (KFC)
The team has requested food. Given time and budget, KFC is all I can deliver. Director/cameraman Lee takes his first look at the camera, which belongs to the brother of main actor Julian. Playback is fine but the screen is black during "record." After a fourth voice asks him if he's removed the lens cap, Lee calls Julian's brother. Fifteen minutes later, a locked tape now unlocked, the other team members stop drawing straws to decide who'll return to Sydney to borrow another camera.
8:45pm (Wheeler Place)
We hotfoot it to where organiser Kristi Street fronts a crowd of participants. Rules try to level the field by allowing only in-camera editing. The brief contains a list of "items", five of which must appear in the film. Kristi announces two new rules – all films must include a sunrise and a shot with two items together. Shooting Stars – actors who try to appear in as many films as possible – are considered an "item." Unfortunately, unlike previous years when Shooting Stars could have filled two rugby teams, only four have signed up for torture this year. Not that this curbs their enthusiasm; stalked by amateur celebrity Lize squealing, "I'm a Shooting Star and I'd love to be used by you", producer Paddy lets her into our film. At 9pm it's game on.
9:11pm (Hunter Street)
Lee realises he's missing a notebook containing a partially scribbled script and the beginnings of a storyboard; we retrace our steps to KFC to retrieve it from under a tray. Before accusations get intense, I lead off to the Crowne Plaza to meet Lil, a friend and honorary team member. Her parents are staying the night and the currently homeless boys are hoping to siphon accommodation. While Jordan, Lee and Paddy finish the script (a mockumentary about urban Vikings), Stuart and Ben don helmets and facial hair.
10:30pm (Wharf Road)
Lil's parents return to discover that a gang of filmmakers has moved in. We leave to shoot the opening scene with Julian as host Nathaniel Aardvark. Poor lighting proves problematic but not as problematic as Newcastle's hoons, who are out spoiling as many films as possible with car horns and derision. We deal with a pair of drunken Kiwis and a man whose only discernible word is "losers" before we shoot.
11:40pm (Harbour Square)
Half the team is out hunting styrofoam cups for a future scene while the next shot takes place at a particular bubbler, an "item." Two other teams are there, including our sister team, who are semi-professional and scripted. Lee films but makes another agonising discovery – although cued, the camera jumps briefly to the film under it (a dinner party) before recording. We record black for several minutes before trying again. The other boys return with 50 styrofoam cups for when Nathaniel explains that global warming has led to icebergs melting, freeing the Vikings.
SATURDAY
1am (7-Eleven)
We're not using the cups but frozen party pies instead. We've also made friends with the 7-Eleven clerks who have agreed to let us film there. Following the scene with the pies, the boys microwave and eat them. No prop ever tasted so good.
2am (Wharf Road)
It's Shooting Star Lize's limelight moment. She and Jordan canoodle as Stuart, the lead Viking, emerges from the water. Halfway through rehearsal security ushers us away, citing residential rules. We move 30m down the wharf to what turns out to be a better location. The setting is still dim but so is the plot, so we let it be.
3am (7-Eleven)
Back at the 7-Eleven we set up a scene in which two Vikings run into the store and customers run out. We recruit some homeward revellers until Paddy realises he's misplaced the release form. Two drunk girls really want to act, so it takes 15 minutes to un-recruit them. As a result, I'm required on set for gender balance. Then it's time for a nap before the next session; I bunk at the YHA while the boys try the Crowne.
6am (Ocean Street)
Lee calls and I lead them to a certain sandstone wall – another "item." Because Lil's family were asleep when they went to the hotel, the crew have had to snooze on sofas in the upper foyer, luckily without eviction. The wall scene doesn't take long but a waiting team and the official photographer (who uses the flash while the camera's rolling) prove distracting. We keep the take only because we need to catch the compulsory sunrise.
7am (The Foreshore)
Shooting Star Kyle meets us at The Foreshore, where a travelling "item", a blue inflatable lounge, sits temporarily. He's also brought a witch's hat, another "item", so we satisfy the brief. Nathaniel Aardvark interviews the Vikingologist (Kyle) and we move to the wharf to play Newcastle vigilantes, led by Phil, vowing to fight the Vikings. The cloudy sunrise works favourably and we move to an empty hill to film the battle scenes. The film must be shot in sequence; lacking extras, the boys change – from Vikings at the bottom of the hill to vigilantes at the top – several times before interesting camerawork has the groups clash. The battle scenes are fun and Kyle misses four calls because he's playfighting with us.
11am (Wheeler Place)
The camera battery needs recharging and so do we. We breakfast at Juicy Beans; director Lee downs a bowl of cappuccino and Stuart stays in character by wearing the helmet as he eats. Lil's parents have checked out of Newcastle so I coerce the team to the YHA loungeroom, where they crash for an hour.
1:30pm (Pacific Park)
We're too lazy to walk to The Foreshore, so we film the final showdown in Pacific Park, opposite the YHA. I play a corpse while Stuart and Phil fight, broadsword versus walking cane. Stuart wins, walks off with loot and, for most of us, filming ends. Julian films his sign-off in the YHA and heads off to the music library and dubbing place with Lee and Paddy to transfer the film onto the official VHS tape.
8pm (Wheeler Place)
Stuart and I submit the tape. The others have caught the train back to Sydney but we're here for another night, hoping to share a post-competition drink with our sister team; unfortunately the clock strikes nine and the submissions tent closes before they can hand their tape in, despite their cameraman running in front of a train to get there. Stuart and I settle for condolence drinks at their townhouse.
11:15pm (Centenary Road Townhouse)
All drunk singing Powderfinger's "Sunsets." Let the drinking games begin.
SUNDAY MORNING
Urgghh . . .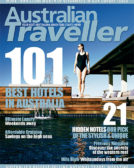 Enjoy this article?
You can find it in Issue 9 along with
loads of other great stories and tips.