Diving with Grey Nurse Sharks in Fish Rock Cave in South West Rocks
In Australia it's almost too easy to become blasé about our abundant and fantastic water experiences.
However, here is a true hidden and underrated gem. Reputedly one of the best ten dives in the country – if not the world – Fish Rock Cave is more like a 125m submerged tunnel. Definitely not for casual snorkellers, and accessible from South West Rocks on the NSW North Coast, the Fish Rock Cave vanishes below a rocky outcrop and is home to one of the largest single collections of the highly endangered Grey Nurse Shark.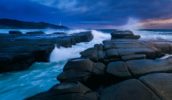 Starting at the deepest side of the tunnel, you traverse through a pitch-black chimney packed with fish and crustaceans. The little-known Hairy Reef Lobster is just one of five types of lobsters found here, and the dizzying array of fish and life as you burst through to the light is an overwhelming sensation. Deservedly one of the greatest underwater experiences in Australia.
"SOUNDS LIKE AN ABSOLUTE DIVERS' PARADISE." – Sandra Sully
WHERE // Fish Rock is 2km off Smoky Cape at South West Rocks, which is 460km north of Sydney and 530km south of Brisbane on the Pacific Hwy. For more info, call (02) 6566 6474 or check out www.southwestrocksdive.com.au
DID YOU KNOW? // Trial Bay, the bay South West Rocks sits on, got its name from the ship Trial, which was stolen by a group of convicts looking to escape to South East Asia and was wrecked there in 1816.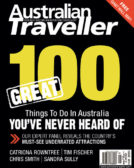 Enjoy this article?
You can find it in Issue 14 along with
loads of other great stories and tips.