Beguiling Byron. A place of happy beach existence, where sophisticated barefoot executive meets trust-baby bohemia meets yoga master. It's the ultimate Australian town where no-one is out of place: DINKS, Reiki masters, ferals, wealthy Europeans and British backpackers all live happily here. Its carefully crafted laidback ambience and ability to totally unwind the most knotted of shoulders make it virtually unmissable for most travellers.
For the first timer, the town itself can be underwhelming and, within an hour of arriving, many wonder what the fuss is about. But within 48 hours the cynic is usually converted and another I-just-looove-Byron-ite is born.
Dreadlock-crowned locals insist this is something to do with meridian lines. The township can loosely be divided into four sectors. The two wealthiest are those around Watego's Beach east of the main township at the base of the lighthouse, and the hillside houses overlooking Tallows Beach. The northern end of town is often best left to the bong-belching backpackers.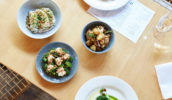 The town centre is a hub of restaurants and waterholes. And the beauty of Byron is that there's so much to do after a long day lounging on the beach.
Where? // 770km (10.5hrs) north of Sydney, 165km (2.5hrs) south of Brisbane.
Did you know? // Until the surfers and hippies arrived in the 1960s, Byron was struggling to survive. The reasons? Unclear, but the foul smell of the local meat and butter works and whale processing plants surely contributed to the problem.
Return to: the 100 Best Towns in Australia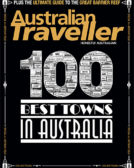 Enjoy this article?
You can find it in Issue 26 along with
loads of other great stories and tips.