Accommodation, Dining and Drinking. Our Guide to Byron Bay
Rae's on Watego's
It used to be a quaint little Spanish-style restaurant called The Argentine Ant – and now Keith Richard stays here. It's the classiest place to stay in Byron Bay and comes with a price tag to match. But it's been beautifully redone; designers who like clients to be absolutely sure of how much they're spending each night have thankfully stayed away from Rae's. And it sits atop one of the world's most gorgeous beaches, Watego's, which is just far enough out of town to ensure you'll have a bit of peace and quiet.
Phone: (02) 6685 5366
Website: www.raes.com.au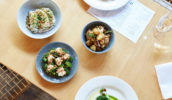 Byron Blisshouse
Despite the fact that Catriona Rowntree has been seen cavorting near naked in the spa here singing the praises of this "gorgeous little seaside retreat", staying at the Blisshouse feels like you're avoiding the clichéd Byron Bay holiday resort. For one, it's built on Belongil Beach, one of the town's most under-rated beaches, which is often uncrowded, even though it's only a couple of minutes from town. It's also Bali-style in design and is completely private, meaning you'll leave the crowds of Byron a long way behind.
Phone: 0407 855 045
Email info@byronblisshouse.com.au
Website: http://byronbliss.com/wp/
The Byron Bay Beach Resort
For those who don't want to max their credit cards staying in places that in some ways stifle the true spirit of Byron Bay anyway, book a room at the Byron Bay Beach Resort. It's about ten minutes drive from town, which may be inconvenient for some, but it's set on its own totally uncrowded beach – and you can walk into town along the beach in about 15 minutes. It's the perfect spot for families, but is also a good retreat for couples and friends on holiday.
Phone: (02) 6685 8000
Website: www.byronbaybeachresort.com.au
Clarks Beach Caravan Park and First Sun Caravan Park
Caravan parks have had poor PR for years: screaming kids, drunken teenagers, yobbo Australians . . . but Clarks Beach Caravan Park and First Sun Caravan Park should change all that. Put simply, with the possible exception of Rae's, they're located on Byron Bay's most desired real estate. Both are on the beach, and Clark's Beach in particular caters perfectly for anyone looking for the ultimate seaside holiday. It even has its own barbeque and cooking facilities literally on the sand. And the sunrises here are magic.
Phone: (02) 6685 6544 (First Sun) and (02) 6685 6496 (Clark's Beach)
Get your own house
This is the best way to see Byron Bay, particularly if you're with friends or family. It actually ends up costing a lot less, as you're much more self-sufficient and having a barbeque at your house beside the beach beats any restaurant in town. It's also the closest you'll feel to being a local here without actually packing up and moving.
For the best houses available in Byron Bay (and resorts and hotel rooms) contact: Phone: (02) 66857523
Website: www.a1accommodation.com.au
NIGHT SPOTS AND PUBS
The Beach Hotel
One of Australia's most iconic pubs, the Beach Hotel offers the kind of drinking views you thought only existed on Bacardi ads. Owned by Strop, Paul Hogan's little mate, this is the place that put Byron on the map in the first place. It's also a great spot to dine and has some of Byron's most up-market accommodation on site.
The Railway Friendly Bar
Although it's lost a little of its novelty value now that the train doesn't run through Byron Bay, "The Rails" is the closest thing Byron has to a true local watering hole. Offering an eclectic range of musical acts most nights of the week, The Rails still exudes the kind of character we all moved here for in the first place.
The Great Northern Hotel
Truth is, the front bar here could be in any town in Australia – but it's the characters this pub attracts that makes it special. There's a portrait hanging on the wall here of Chicka, a true local who lived upstairs and drank every day for 50 years. Do NOT take his seat by the corner of the bar. There's also a back room that attracts some of Australia's best-known live acts.
La La Land
Be scared. Be very scared. This extremely cool – in a St Kilda sort of way – lounge bar attracts some of the area's best DJs performing to some of the area's biggest space cadets. It has a mellow patio for sitting back and enjoying a balmy Byron evening, and also peddles pizzas. Be early come holiday time because the line-up stretches for at least a block.
The Pighouse Flicks
Because not everything in Byron Bay has to revolve around drinking. This would have to be one of the world's quaintest cinemas: you're not allowed to wear shoes here, and they screen a good combination of new releases, art house classics and environmental docos. Had Byron not become what it is today, the Pighouse is what the entire area may have looked like.
RESTAURANTS AND CAFES
The Clarke's Beach Cafe
There's nowhere more Byron Bay to eat breakfast or lunch than the Clarke's Beach Cafe. It looks more like a kiosk on the beach than anything else but it serves great food and when the sun's out it would have to be the best place in the world to wolf down bacon and eggs. It's a shame they don't serve dinner, but for daytime dining, you can't do Byron without eating here at least once.
Phone: (02) 6685 7598.
The Pass Cafe
Set on Byron Bay's most famous beach, the Pass Cafe is another like Clarke's Beach Cafe: a spot at which you must dine, or risk feeling you didn't actually go to Byron at all. The best thing to do is go for a morning swim, then take yourself up to the cafe for either a late breakfast or early lunch in this bush setting. The food is great and the smoothies are even better. Just make sure the birds and goannas don't steal it.
Phone: (02) 6685 6074
The Buddha Bar and Restaurant
Like dining out in Byron Bay circa 1979. When I need to see Byron how she used to be, I come here for the special ambience I remembered so well as a child. Set in the famous old Piggery building on Skinners Shoot Road, eating here is an experience unique to Byron. The food is reasonably priced and healthy with all sorts of international dishes available. There's also often live music, and it's BYO. Phone: (02) 6685 5833
Website: www.artsfactory.com.au
Fig Tree Country Restaurant
This has to be one of the country's most picturesque restaurants – and the food is just as good. What's more, it gives you the chance to leave town behind, eat among the rolling hills of McGettigans Lane – a five-minute drive west of Byron – and to gaze across Byron and out to Julian Rocks as you dine. Perfect for romantic dinners, this is the restaurant locals reserve for special occasions. Probably half the married couples you'll see in Byron Bay popped the question at the Fig Tree.
Phone: (02) 6684 7273
Fins
Set within the world-famous Beach Hotel, Fins is an upmarket seafood restaurant that actually delivers. All too often at iconic tourist destinations you're disappointed because owners know most of their clientele won't be returning, so they make far too little effort. But Fins, which has had a long history in the Byron Shire, is the exception. Grab a beer at the bar by the beach and watch the day end – then end your evening at one of Byron Bay's best restaurants.
Phone: (02) 6685 5029
Website: www.fins.com.au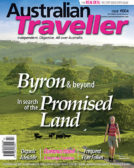 Enjoy this article?
You can find it in Issue 4 along with
loads of other great stories and tips.