Somewhere amongst the banana leaves of Coffs Harbour is a garden oasis… or so say the rumours.
I'm stretched out in an outdoor spa overlooking a hillside of sturdy banana trees. It's silent, save for the occasional rustle of leaves and the sound of bubbles as they rise and pop against my skin. This is, I'm fairly certain, what mere mortals refer to as bliss. Those in the know, however, would call this Santa Fe luxury bed and breakfast.
Whispers about an eclectic B&B located just outside Coffs Harbour had dogged me for several years now, and curiosity finally prompted me to seek answers. Eventually, a friend of a friend suggested Santa Fe which, he says, has built a name for itself as something of a hidden gem since opening back in 1993. Though the website tells a different story (my advice: just don't even look at it) I'm intrigued enough to make a booking.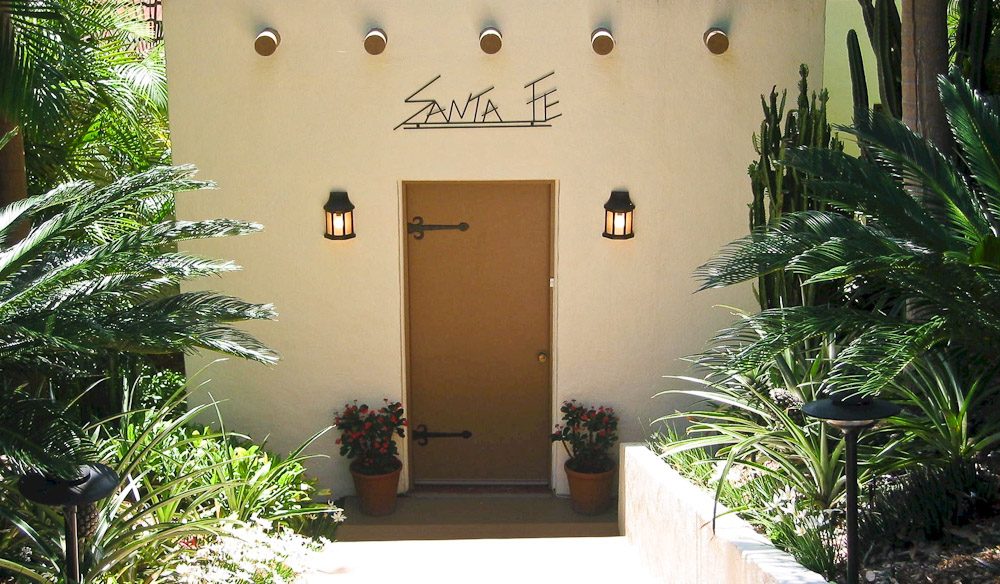 When I finally do arrive, it's dark, late, and I've called host Sharon three times for directions. Eventually, she suggests switching off the car's GPS; such modern reliances have caused the misrouting of many a guest, I'm assured. Whether this is true or not I'll never know, because Sharon turns out to be a master of tact and diplomacy.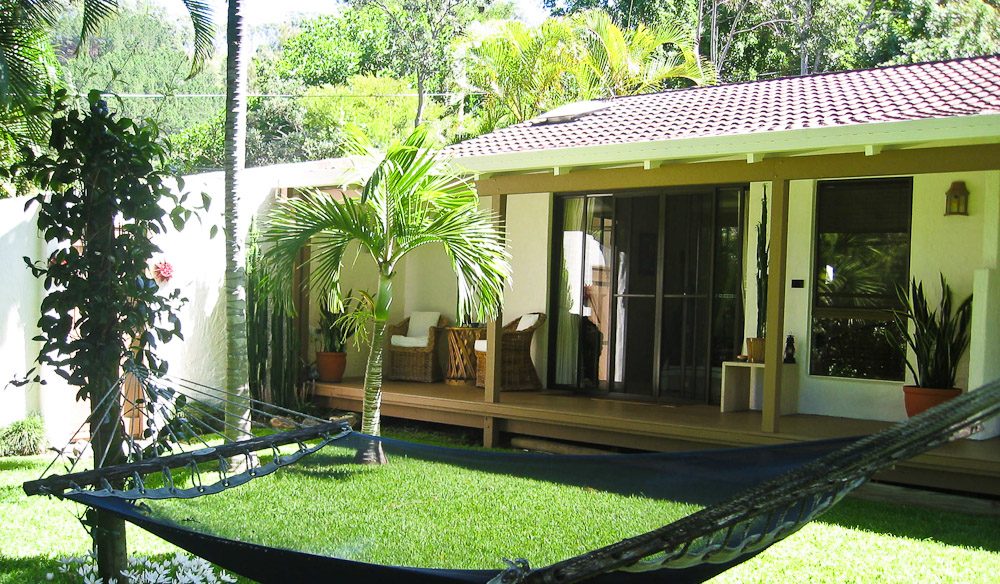 She's also impressively serene. I stumble down the stairs into the main building, struggling with my mammoth pink suitcase before loudly slamming it on the ground; out of breath, wondering if I locked the car, and fielding two separate phone calls whilst trying to shake her hand. You couldn't script a cheesier scene emphasising the contrast between us – there's even some kind of harmonious music playing softly in the background. Sharon accepts my sweaty palm and smiles at me with genuine warmth. Would I like a glass of wine?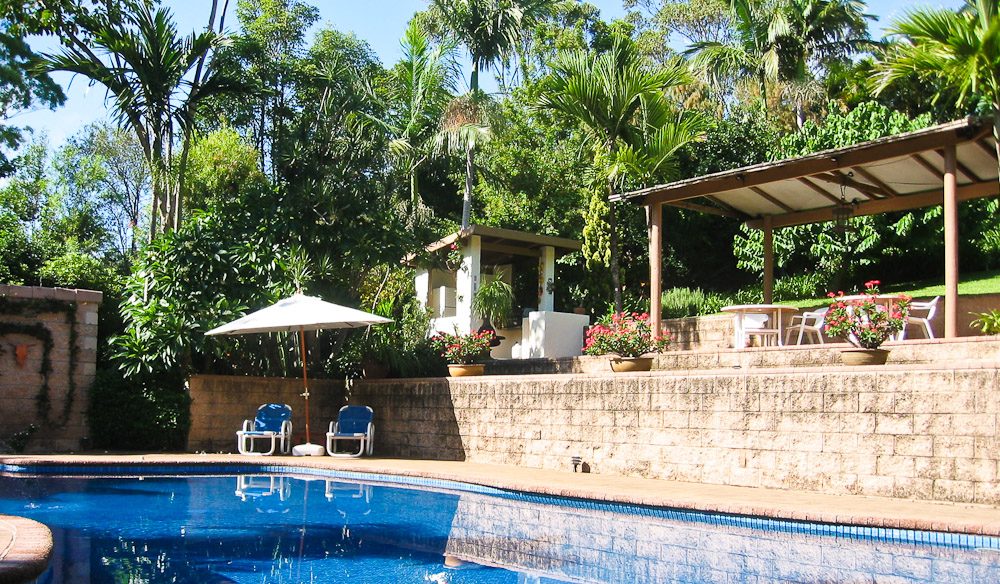 This is my kind of place.
The pool area is gently illuminated by garden lights, and the two charming 'suites' I can see are actually sweet cottages. There are three rooms at Santa Fe; these two and a third, the Navajo Suite, which is located inside the main complex. Would I like an upgrade to the Navajo Suite?
Well… I'm relieved I don't have to make my way down the hill with my luggage that night – where's a bellboy when you need one? – but I do feel a pang of disappointment at missing out on the cottages; all kinds of superlatives have been used to rave about them in online reviews. ("Romantic!" "Adorable!") But my disappointment is not long for this world. The Navajo Suite houses a lavish king bed with all the usual suspects (TV, DVD player, air-con and so on) and my favourite part – an outdoor deck overlooking the banana plantation, with the aforementioned spa to boot. The common living area is full of an eclectic jumble of knick knacks, collected from Sharon and partner Ben's travels through South America. When Sharon first designed the eccentric interior scheme (with the help of her brother Alan) she was inspired by Mexico's Santa Fe, but today the room is more reminiscent of South America in general. Quirky statues, long and dangly lights, multi-coloured throw rugs, cushions – they're all strewn around ever so casually in the vividly-coloured room.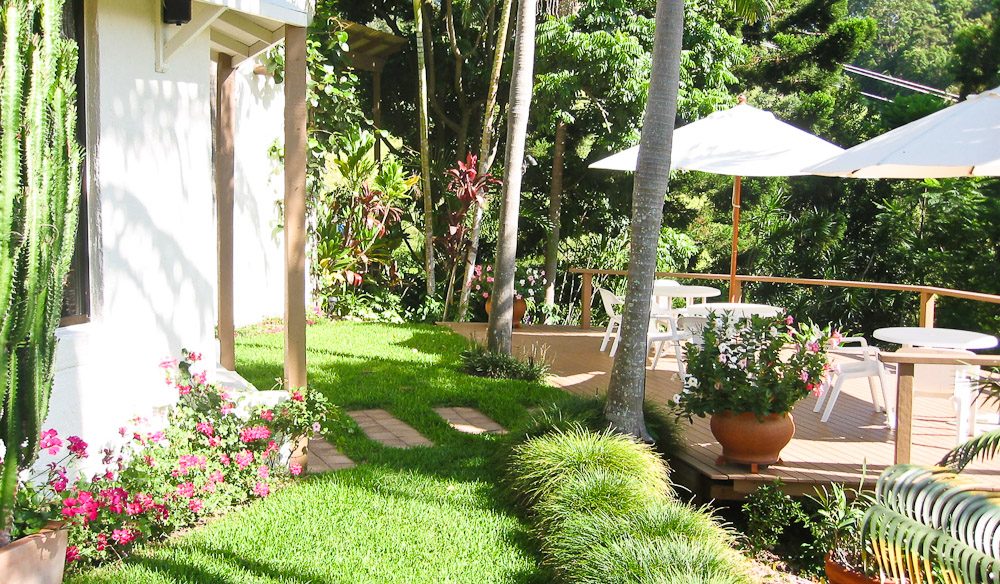 Setting out for a jog the next morning, I explore the six acres of lawns and gardens, which are tended to by Alan, a horticulturist and landscape designer. He's worked around the globe before applying his talents here, and his efforts have been duly rewarded – the gardens have won numerous local awards. They're also just too pretty to run through. After a half-hearted attempt at a jog, I give up, making my way through the gardens the way you're meant to – at a stroll.
Still, the fresh air works up an appetite and when I return, Sharon magically appears with a freshly-squeezed raspberry and pineapple juice, then a raspberry brulee, served with fresh, juicy strawberries and passionfruit yoghurt. I finish the meal off with parsley scrambled eggs on a muffin, topped with crispy pancetta and semi-dried tomatoes. The advertised 'three-course' breakfast is closer to two, but I'm not complaining. And certainly no longer hungry.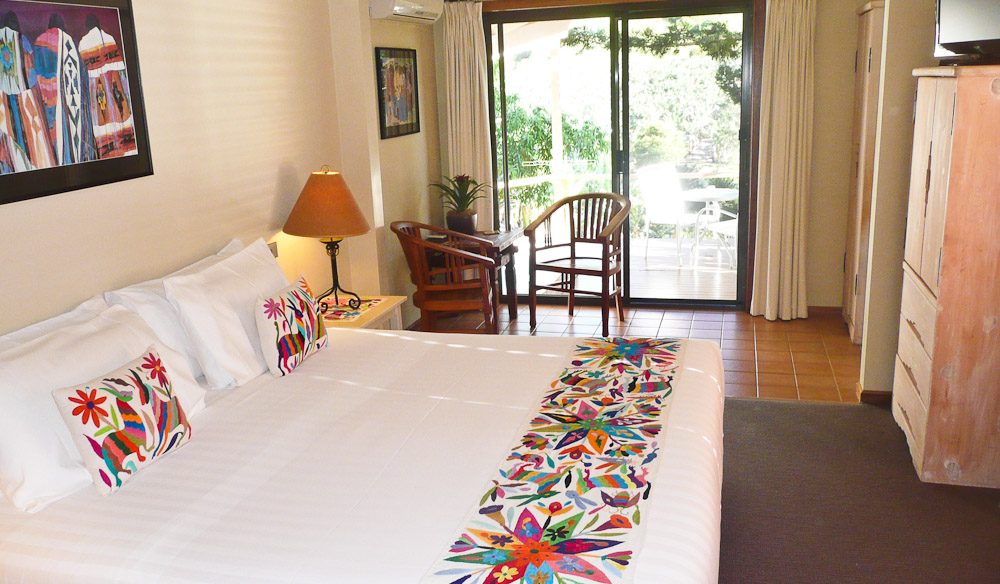 I leave Santa Fe wanting just that little bit more. It's the kind of place where you want to linger just a little bit longer – to wander through the gardens one more time, go for a dip in the lagoon, cook a BBQ (there's a nifty set-up at the pool and the rule is you're not allowed to clean up afterwards) – or if you're me, just hang out in the private spa.
The Details
The Verdict
Peaceful and serene, this is the place to stay if you want to get away from the hustle and bustle of city life.
The Score
15/20: great
We Rated
Breakfast – especially the fresh raspberries.
We Hated
Nothing, but the interior design in the main complex could do with a modernised revamp.
Where
235 The Mountain Way (off Gaudrons Road) Sapphire Beach, Coffs Harbour NSW
Notes
AT paid $230 for one night in the Navajo Suite (usually $250). Rates vary from $195-$250 per night and include a three-course breakfast.
Contact
02 6653 7700
All AT reviews are conducted anonymously, and our writers pay their own way – so we experience exactly what you would.