AT's Sol Walkling joins the crazy thrill-seeking set in the unpreposessing seaside town of Port Macquarie. She went for a relaxing weekend and got waaaaay more than she bargained for . . .
Not just any Port in a storm

Standing on the edge of Jollynose, an – admittedly quite small – mountain in the Greater Port Macquarie region 400km north of Sydney, the mixed group of five novice abseilers wholeheartedly agrees that only entirely crazy thrillseekers would possibly strap themselves into a harness attached to two frail-looking trees to step over the precipice and hang on for dear life.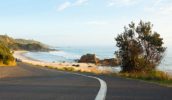 "I guess that makes me crazy then, too," June, who had survived a cancer scare the previous year, nervously laughs.
My friend Pete, whom I'd talked into dangling off a cliff face, keeps on throwing me glowering looks in between nervous glances at the looming edge. Surprisingly, I don't feel scared at all, despite having suffered extreme vertigo as a kid – to the point where standing on a stool made my knees weak. My new-found lack of fear might have had something to do with facing a whole number of fears unintentionally since I started working at AT. If you'd asked me only half a year ago whether I'd ever entrust my life to an airborne wicker basket, a dented steel cage lowered into shark infested waters or a flimsy looking harness carelessly slung around a couple of trees, I would've laughed and told you to bugger off. After all, I would like to live beyond 30, thank you very much.
As I'd discovered on my brief reconnaissance mission to the top the previous day, the views from Jollynose over the lakes and mountains of the area are absolutely breathtaking. But they sure as hell didn't really inspire me to step over the edge. And so today's abseil would test my theory that, after facing a Great White, nothing could possibly scare me – bar spiders and cockroaches.
It doesn't help that I'm still exhausted from the previous day when Pete and his friends, who we were staying with, had got a bit carried away in trying to cram as much into a single day as possible – in an effort to convince me that Bonnie Hills and surrounds is a great travel destination. (For the record, it's one of my top choices for a brief getaway from Sydney. And it's also a great spot to stay overnight, if you're driving up to Byron Bay.)
Our holiday programme, entitled "who gives up first – a travel writer or a three-year-old?" had started with an early morning run along the ocean front in Bonnie Hills, where overgrown walking tracks on rugged headlands lead to some of the most spectacular picture opportunities I've seen. (Of course, I'd left my camera at our friends' house.)
A trip to the Koala Sanctuary was next with our friend's three-year-old bundle of energy, who was looking forward so much to the koalas that he fell asleep in the back of the car and missed the Lake Kathie Koala Reserve and nearby Sanctuary altogether. No doubt preserving his energy for the long day ahead. Anyone partial to some history will love the historic Roto House on the sanctuary's grounds.
A stop by the Visitor's Centre and drive to the Macadamia Farm in the mid North Coast's hinterland followed, where we put the little fellow's energy to good use and got him to collect some nuts. Then we took a drive through the undulating hills and saturated greens of pastoral country for some hot chocolate, brownies and other sweets at the Udder Cow Café in Comboyne – which, according to our friend, has the best hot brew in the region. By the time we got to Boorganna National Park, the sun was setting and we don't quite make it all the way down to its waterfalls. On the way back, a now sleepy bundle of energy required a lift up the hill, giving me some training for the next day's abseil and settling the score in my favour.
They say nothing can beat a good sleep before a big day. Too true, but unfortunately this proves more than difficult with my friend clearing Jollynose's trees from 1am onwards, the little energy bundle back up again an hour later (okay, I clearly lost the battle) and the family's little baby joining in the pre-sunrise concert.
That night, in between fitful waking, I dream of the soft beds of Port Macquarie's Rydges and the sounds of waves crashing against boats in the town's harbour drifting soothingly through the hotel windows. By the time the backyard chickens stretch their vocal cords, I'm showered, dressed and utterly unprepared for what lies ahead.
But a good hour spent in the cold morning air, combined with a more than just bumpy ride up Jollynose and the resolution to take ear plugs on every single one of my next trips from now on, cheers me up enough to enjoy the beautiful scenery as our group gets a talk from Edge Experience's Sam Dalton (www.edgeexperience.com.au). He's reassuring and funny as he instructs us and helps us don harnesses and flattering neon helmets, but some of my fellow abseilers have got the flutters.
Nervously laughing and stumbling after Sam as he takes us to our first edge – only a two to three-metre abseil over a kind of oversized boulder. No-one wants to go first. And, despite my bravado, I'm trying not to think about what I'm about to do, which proves hard when you're taking shots of people dangling over the edge.
But despite a fearful moment as I lower myself over my first two-metre obstacle, my strategy seems to be working. And while the first two abseils don't feel quite that natural, a hearty lunch gives me the necessary energy to join the others in loud wahooing while going down the rock face on descent three. (Which takes about five seconds longer to complete.)
Once you've overcome the initial resistance to stepping over the edge and walking down a vertical cliff, the adrenaline rush and feel-good-hormones will do the rest. By the time we get to the last 54m abseil from the very top of Jollynose, I feel like Superwoman about to take off. Although I must note that my fellow travellers don't seem to share my natural high at the sight of the ocean and, more importantly, height they're at. (The abseil only takes us onto a ledge just below the highest treetops.)
The jittery laughter has ceased, but there's an audible intake of breath as Sam trips near the edge – thank god he was just testing our nerves. While I'm fairly collected, keeping to my mantra (don't think about it, just do it), I prefer not to get to close to the edge before I strap my harness to the ropes Sam's expertly tied up.
Even before I step off, just as I'm edging closer to the edge, so to speak, I can't help but break into a smile from ear to ear. And as I'm at that awkward point where my weight is not yet fully suspended in the "sitting harness", I start laughing.
I can't even begin to describe how happy I feel. (Partially that might be because I can feel that the ropes are actually holding my weight and stopping me from falling to what would be my certain death.) If you remember the exhilaration you felt as a kid when you got swung high up in the air by your parents – again and again and again – you might come close to understanding the rush of happiness that's flowing through my body.
Whoosh, I go down fast for a stretch, hanging off the mountain. My cheeks hurt from smiling. Stop and look around – views to the horizon, the ocean sparkles in the distance. Whoosh and woohee, I swing away from the cliff face – like a human bouncing ball. "Hey, Sol!" Sam yells. "Look down the rope!"
Thinking it might have got caught in the treetops, I look down the length of rope to the plateau about 40m below and several hundred metres beyond to the bottom. "Scary, huh?" shouts Sam. But even a flying Great White Shark couldn't scare me right now. I laugh. "It's greeaat," I scream, before I whoosh my way down Jollynose's face.
Tonight, I'll dream of flying.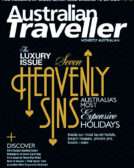 Enjoy this article?
You can find it in Issue 22 along with
loads of other great stories and tips.