Not everyone can win the major prize each issue. Here is the winner, and just some of the incredible reader images that came close.
1. King of the Coast – Winning Image
"This was taken in October 2009 at Shelly Beach, Port Macquarie, NSW. It's a beautiful, long sandy beach with rock formations down one end. I was on the beach by myself because it had been raining all day and the skies were only just starting to clear up.When I got down there I saw this little guy sitting on a rock looking out to the horizon. He hung around for 10 minutes or so
and seemed to enjoy having his photo taken as I was able to get as close as two metres away. He was more engrossed by the waves that were crashing into the rocks nearby – most of the time he had his back to me! The moment captured here was one of the few times he turned his head to see if I was still stalking him with my camera. It was just the kookaburra and myself on the beach and it was a really special moment that I shared with him."
Luke Thurlby, Alexandria NSW
2. Mirror Image
Loo-Errn track, Wilsons Promontory National Park
"This was taken from a fishing platform on the Loo-Ern Boardwalk at Tidal River. You can see Mount Oberon on the right and Mt Bishop on the left. It was a beautifully crisp, clear afternoon and I was trying out my new camera. I've been to the Prom many times, but I've never seen Tidal River as still as that. Just magical."
Bodye Darville, Traralgon, Vic
3. Sand Carving
Mungo National Park, NSW
"It is here where archaeologists unearthed human remains that were subsequently carbon-dated as more than 30,000 years old. Further finds proved Aborigines occupied the land that long ago."
Terry Everson, Whalan, NSW
4. Suited in the City
Melbourne CBD
"I took this photo a few months ago while visiting Melbourne. I was walking along the banks of the Yarra
at lunchtime on a weekday and noticed these people relaxing during their break."
Magda Biskup, Sydney, NSW
5. Sun Lounger
The Pilbara, WA
"We are currently working in Karratha and took a trip out to Deep Gorge on the Burrup Peninsula to look at the rock art. We came across this little lizard sunning himself on a rock."
Donnah Scholes-Robertson, Secret Harbour, WA
6. Wet One
Finke River, NT
"This is my mate Sam crossing the Finke River. We drove the Oodnadatta Track and everything was going fine until we started heading back south towards Coober Pedy. It started to rain and didn't stop. When outback roads get solid rain they turn to mush and are closed until they dry up and are regraded. In the end I was stranded at Oodnadatta for three days. Welcome to the Outback!" David Campbell, Sydney, NSW
7. Last Stop
Jincumbilly, NSW
"Along a relatively quiet road north of Bombala, NSW, this small, delightful railway station stands by itself as a reminder of days gone by, when trains provided regular services. The actual tracks are lost in the grass – but it is pleasing to note that someone cares for it as the sign has been recently repainted."
JIll Graham, St Ives, NSW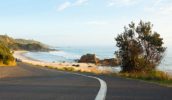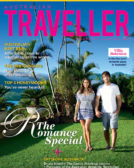 Enjoy this article?
You can find it in Issue 39 along with
loads of other great stories and tips.