Mike Larder hops tentatively aboard an auto gyrocopter called The Tardis for a thrilling bird's eye view of the NSW north coast.
As a kid, I was terrified of the original Dr Who, the wonderfully cranky William Hartnell. I'd hide beneath a lounge room chair covered in my old quilt blanket, peeking out at our newly purchased 21-inch black and white Astor TV. Tasmanian television in the early '60s was terrible, so no matter how scary or dreary the show was – test pattern included – I'd watch it.
The threat of extermination by the despotic Daleks haunted me for years. Still does. So what am I doing 300m up in the dawn sky, soaring above the gloriously bucolic Northern Rivers Delta, straddling a sleek, iridescent blue autogyro, my immediate fate held in the deft hands of a cosmic sky-pilot commanding his personal flying fantasy and who firmly believes he's a new-millennia Time Lord?
This nifty, state-of-the-art, $100k chunk of German technology, one of only 30 flying in Australia, allows wannabe Time Lord Peter Coulter and one companion to merge with the parallel worlds of infinity and beyond (apologies to Buzz Lightyear). Once aboard his MT-03 Autogyro, it is indeed larger on the inside than it looks from without. But not by much. This is seat-of-your-pants, hi-tech time travelling and we are in an unfamiliar dimension, sky-riding a flying motorbike. Think BMWs or Honda Gold Wing. I'm saddled pillion. Behind me the propulsion system roars and thrusts with reassuring Teutonic precision a few inches from my back. Above my helmeted head, thwacking rotors keep us suspended in our own very personal little space.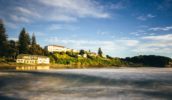 Autogyros actually preceded more conventional choppers. And should the unthinkable occur and the power plant go scheize, an autogyro will not tumble from the sky, as would a helicopter. Instead, it will descend on self-created rotor-rotation – as evidenced recently when, during a high-flying wedding ceremony, the windswept bride's bouquet was sucked into the engine, instantly choking the thruster with fragrant petals and dampening the happy couple's ardour. With the breezy slipstream whistling through the petrified bride's tiara, the now-silenced machine wafted earthwards like an autumn leaf with rotors still reassuringly swirling – and although landing with an undignified bump, the bride, veil slightly askew,and gibbering groom tottered away for a stiff drink and a knee-trembling honeymoon.
The awesome and unrestricted views from an autogyro permit fabulous encounters with nature. We soar and swoop like a very noisy eagle over the cobalt blue Pacific. Whale watching takes on a thrilling new dimension. A mother humpback ministers to her four-tonne baby while we watch in awe from a non-intrusive distance. Shadowy manta rays glide beneath us. Dolphins leap and frolic. The menacing silhouette of a lurking hammerhead scouts for a snack, while surfers contest Angourie's treacherous point break. A flock of passing pelicans, cruising in perfect echelon, eye us inquisitively. Whistling kites hang on the updraughts, more with curiosity than fear of this strange and noisy mechanical ugly duckling.
This is seat-of-your-pants, hi-tech time travelling and we are in an unfamiliar dimension, sky-riding a flying motorbike.
We flit across lakes and wetlands, raising flocks of egrets, ibis and squadrons of gulls and terns. A naked, wrinkly beach walker offers us a lazy, unabashed wave from beneath his sole article of clothing, a battered straw hat.We flutter above the meandering, mirror-calm Clarence River. The dawn mist dissolves, revealing distant Grafton and the craggy
Great Divide beyond. To the north, Cape Byron emerges from the gloaming haze. To the south, Brooms Head and Coffs Harbour appear. Harwood Island drifts by as we make our approach to Palmers Island's landing field, carved from the swathes of sugar cane. We touch lightly down and rejoin our fleeting shadow.
Coulter maintains that his well-maintained type 40 Tardis will safely transport his companions into altered time and space. Can't argue with that. If that's not time travelling within our mere mortal limitations, what is?
DETAILS // $99 for 30min, longer flights available, up to 5hrs between fill-ups. Departing Palmers Island, near Yamba NSW, whenever you like. Call Peter Coulter at (02) 6646 8693 or 0408 662 285.
*Like all AT reviewers, Mike visited anonymously and paid his own way.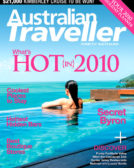 Enjoy this article?
You can find it in Issue 30 along with
loads of other great stories and tips.