Australian Traveller looks at The Four States Many Corners Trek, one of Australia's 10 Greatest Outback Journeys.
This track takes adventurous trekkers from Broken Hill in NSW through remote Corner Country and the vast Simpson Desert in a dusty 4WD adventure marked by the number of corner posts you'll pass and the amount of times you cross back and forth from one state to the next.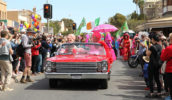 You'll also be frequently crisscrossing the paths taken by early explorers looking (fruitlessly) for an inland sea – pretty unbelievable, considering the dusty, dry landscape you're passing though.
If you're an experienced and confident 4WD explorer, you can undertake this journey on your own or in a small group – but make sure you obtain detailed directions and updates on road conditions from local rangers. The other option is to join one of the many organised tag-along tours that cross the Simpson Desert on a variety of tracks.
AT's recommended route begins in that quintessential outback town: Broken Hill. The Silver City will give you a first feeling for the vast, beautiful landscapes and feeling of remoteness that await you. While stocking up on supplies, delve into the town's mining heritage and vibrant arts community. Then head to White Cliffs, which boasts an underground motel, then on to tiny Tibooburra, which means "heaps of rocks" in traditional dialect, also known as the Capital of Corner Country, and continue on to Cameron Corner – the meeting point of the NSW, Qld and SA borders – where you can also admire the great Australian Dog Fence.
Make a little pit-stop at Innamincka in SA and visit these nearby historic places: sites marking the demise of Burke and Wills, and the famous Dig Tree at Nappa Merrie station where food was left behind for the group's starving members.
Australia's largest shearing shed at Cordillo Downs and the Strzelecki Desert are on your way to the Qld border, and be sure to stop at Birdsville between the Simpson and Sturt's Stony Desert for a cool drink in its famous pub (you might even bump into someone doing the Longreach Loop). You'd be wise to stock up on supplies again here, since you are now officially leaving civilisation behind.
All you'll see at nearby Eyre Creek floodplain is birds, before encountering more corner poles in Poeppel Country at the junction of SA, NT and Qld. The Simpson Desert's lake country in SA will challenge your driving abilities as you navigate the French Line through endlessly undulating red and white sand dunes. We reckon by now you're officially a very sweaty explorer in true blue Aussie tradition, and you'll be glad to hear that Dalhousie Springs is next: it's an oasis of 60 mound springs and wetlands teeming with native flora and fauna right in the middle of the desert. It's also the largest natural surface expression of the Great Artesian Basin. And it even has a campground.
Change direction again and strike north past Mount Dare before – you guessed right – crossing the border (again) into the NT and passing through Finke on the way to your last pit stop at Kulgera, a town 22km north of the SA border, deep in cattle country with a traditional outback pub and many magnificent Aboriginal paintings.
Drive on to Alice Springs and be amazed by the hustle and bustle of the outback's commercial centre. You're back in civilisation – or the desert's equivalent – and with plenty of tales to tell the folks of desert mirages, thousands of wildflowers, star-studded night skies, refreshing mound springs and how you overcame life-threatening obstacles by sheer force of will.
Who got there first? // The traces of early European explorers on this journey are everywhere. Charles Sturt first ventured here in 1845, followed 15 years later by Burke and Wills on their ill-fated expedition.
Don't miss // Finke, the geographical dead centre of Australia, and its many splendid bushwalking tracks.
Drive time // Beginning in Broken Hill and ending in Alice Springs, darting back and forth across the various state borders, this is a journey of around 2240km in total. Simply crossing the Simpson takes four days, so allow anywhere from ten days to three weeks for the entire journey.
Dos + Don'ts
1. Watch your speed near dawn and dusk – you won't believe the number of kangaroos out here.
2. Sand dune etiquette: watch carefully for dust plumes and keep well left at each crest to avoid oncoming vehicles.
3. Sat-phones and other outback-connective devices are a must.
4. Remember to attach bright, colourful aerial flags to your 4WD. Sounds simple, but can be useful in avoiding collisions.
5. Parks passes are required, so arrange these in advance with the various state parks departments, such as at www.parks.sa.gov.au
Accessibility // Anything involving the words "Simpson" and "Desert" definitely requires a 4WD, and none of the more serious tracks should be attempted after heavy rains.
Did you know? // The Simpson Desert is an "erg" – a word of Arabic origin meaning a dune sea – with the world's longest parallel sand dunes. The biggest is called Nappanerica (or Big Red) and is around 35km west of Birdsville, and a whopping 40m high.
More info // Visit www.southaustralia.com, www.travelnt.com, www.outbacknsw.com.au/ and www.adventureoutback.com.au for more maps, info and itineraries.
Sidetracks // Four States, Many Corners
1. Menindee Lakes // Some 20 vast, freshwater lakes full of dead trees and surrounded by sand, saltbush and inhospitable red soils.
2. Mutawintji National Park // Experience a tour with an Aboriginal guide and be amazed by the park's creeks, gorges and utter tranquillity.
3. The Larapinta Trail // 223km long walking track along the West MacDonnell Ranges, broken up into 1-2 day walks, taking in Simpsons Gap, Ormiston Gorge and 360-degree views from Mount Helen.
4. Birdsville Track to Marree // Until the 1930s only accessible for stock and camel trains and regarded as very difficult. Upgraded to a good dirt road through the Strzelecki, Tirari and Sturt Stony Deserts.
5. Cobbler Sandhill // The huge, tricky, pale dune between Lakes Blanche and Callabonna in the Strzelecki Desert is named after that annoying last sheep in the flock to be shorn (traditionally always a difficult beast to master).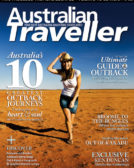 Enjoy this article?
You can find it in Issue 21 along with
loads of other great stories and tips.