An AT preview on our next issue
Broken Hill



In an exclusive preview on our next issue, 100 Best Towns of Australia, we take you to the NSW Outback to one of our favourite places.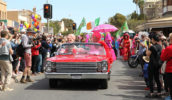 First time visitors to the 20,000-strong town are often surprised at its size. Surrounded by nothing but desert in a 300kms radius, Broken Hill is probably THE quirkiest town on our list. Smack bang in the middle of nowhere – or the middle of everywhere, as locals like to say – the compact town has grown to be a culturally diverse and vibrant hotspot. It's not only home to dingoes, dust and desert peas but to the oldest mosque of Australia, established in 1880 by camel drivers, and one of our country's oldest synagogues just across town.
Aborigines and explorers passing through used the area around what is today the capital of the outback as a base, and the town itself wasn't founded until 1883, when boundary rider Charles Rasp discovered what he though was tin and later turned out to be silver and ore. The isolated Silver City's mining history and industry is evident from the moment you set foot on its Main Street but the name-giving hills with a break in them no longer exist; they were mined away.
With its historic and artistic appeal, there's much to see even before you venture beyond the town's edge. When you do, you will discover why many visitors return: the heart-stopping beauty of the Living Desert Flora and Fauna Sanctuary and its majestic Sculpture Symposium.

Where // 1159kms from Sydney and 422kms from Adelaide. (2hr 40mins flying time Sydney to Broken Hill)
Did you know? // During WWII all of Australia's gold reserves were transported to Broken Hill Jail, as authorities figured it would be the last place the Japanese would possibly look for them. And for a short while, instead of stopping people from breaking out, the jail had to stop them from breaking in.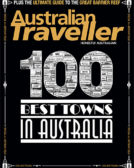 Enjoy this article?
You can find it in Issue 26 along with
loads of other great stories and tips.