In the next chapter of regional Australia's obsession with 'big things', an 18-metre high emu sculpture has been installed just outside of Lightning Ridge, NSW.
Stanley, as he is known, is the creation of local artist John Murray.
The sculpture was forged from donated scrap metal, including three Volkswagen bodies and a pair of satellite dishes, and the legs and neck were fashioned with the metal from the old Dubbo police station. All the labour for the project was also supplied free of charge.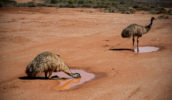 The Lightning Ridge Tourism Association supported the building of Stanley. The association's president, Roger Collins, says Stanley "fits in perfectly with our quirky, slightly 'crazy' nature".
"Lightning Ridge has big skies, big personalities, big opals … and Stanley is our next big thing," says Collins.
Sculptures in the competition have to be completed and erected by the end of September, with the winner to receive $10,000. The competition is part of the region's ARTtober, held every October as part of Opal Month.