One of the Great Indigenous Experiences of Australia: Harry Nanya Tours at the remarkable Lake Mungo.
You're standing on a dune gazing across the edge of a long lost shoreline. To the west, the sun dips beyond the horizon, streaking the sky pink and purple. The moon, rising already in the east, is full, even as the last golden light of the sun disappears.
Someone whispers, "I can feel the ancient Aborigines all about me." Someone else giggles nervously. But every one of you has been touched by a sense of timelessness, of knowing that you stand in the footprints of your guides' ancestors who lived and played on the shores of Lake Mungo more than 20,000 years ago.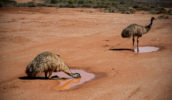 Today, Graham Clarke, from the Paadantji (river people) clan is our Harry Nanya Tour guide. He breaks the silence and points to a nearby pile of debris. It turns out to be a midden of discarded fish bones and shells, the remains perhaps of a Sunday family dinner thousands of years in the past. "This is the oldest fish 'n' chip shop in the world," he beams. It's obvious he enjoys sharing his heritage and the stories of his ancestors with us. And why wouldn't he? As well as being spectacular, Lake Mungo is by far one of the most significant archaeological sites in Australia.
Lake Mungo is part of the Willandra Lakes World Heritage Area. Dry for 15,000 years, this series of lakes was once fed by glaciers from the Snowy Mountains and supported an abundance of wildlife. It's estimated that Aboriginal clans have lived in the region for more than 40,000 years – perhaps as much as 50,000 – supporting the notion that the Australian Aboriginal people have the oldest history of continuous occupation and culture on the planet.
Today the area is home to three clans: the Paadantji from the west and south, the Mutthi Mutthi from the southeast, and the Ngiyampaa from the north. Together they're involved in the ongoing conservation of remains and artefacts in the region. "My story is the land," Graham says to begin the tour. "We believe our people have lived here forever. This is a very spiritual and very powerful place to our people. Wanna Baana Bidja – Welcome to our land."
The invitation to share this culture begins in the Lake Mungo National Park Visitors Centre where Aboriginal guide Roger Clarke, Graham's brother, introduces us to the history of the region. Interpretive displays give a clear understanding of what life was like on the shores of this once thriving waterway. Here you can view remains of Pleistocene ice age mega fauna – Genyorni newtoni, the giant emu, Procoptodon Goliah, a huge kangaroo, and Zygomaturus, the second largest marsupial that ever lived. The area is renowned for the rarity of the species so far uncovered. There are also excavated campsites containing remnants of Golden Perch, freshwater mussels, duck shells, bird bones and grinding and hunting tools that tell a story of a prosperous lifestyle when the waters once flowed.
"This is probably the only place visitors can come and move amongst antiquity. Be respectful, so that it will be here for others to come and see."



"This is probably the only place visitors can come and move amongst antiquity," he says, "Be respectful, so that it will be here for others to come and see."
During the dune walk, Graham explains the archaeological activity undertaken in the National Park. Everywhere we step we discover new evidence of his Aboriginal ancestors and with each finding our excitement increases. Mungo Woman was discovered here in 1968, eroding from a burial site in a lunette. Interestingly, the bones had been burned, crushed and buried, and to this day are the oldest known human remains to have been ritually cremated, predating finds in France and Spain. Later, after heavy rains in 1974, 30,000-year-old Mungo Man was unearthed lying on his right side, sprinkled with ochre, also a ritual burial. It's obvious that both Graham and Roger are well versed not just in their own cultural heritage, but in the archaeological importance of Lake Mungo, a region universally regarded as being of considerable importance.
"But who is Harry Nanya?" asks an inquisitive visitor from the United Kingdom. "He was the last traditional full-blooded Aboriginal in this area who lived the nomadic life," explains Graham. Apparently, Harry Nanya was a bit of a renegade, preferring to keep his family well away from European influences. And after a memorable afternoon so full of cultural values and spiritual meaning, it seems quite relevant that the tour company carries his name.
Harry Nanya Tours
Harry Nanya Tours offer the Lake Mungo National Park Tour and the Lake Mungo National Park Sunset Tour (Nov-Mar). Each tour takes around eight hours. Times of departures differ depending on the time of year, so check when booking. Accommodation pick-up and drop-off from Wentworth and Mildura is included, as well as morning/afternoon tea and lunch/dinner. Harry Nanya Tours also owns and operates the three-star Mungo Lodge, with rooms, camping facilities and a fully licensed restaurant inside the National Park.
Cost // $130 adult, $85 children, $350 family (2 adult, 2 children under 12, extra child $55). For visitors travelling in their own vehicles, a special tagalong rate ($85) is available.
Phone // (+61) 3 5027 2076
Email // info@harrynanyatours.com.au
Website // www.harrynanyatours.com.au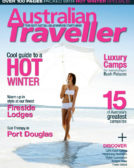 Enjoy this article?
You can find it in Issue 16 along with
loads of other great stories and tips.