Cut off from land with nothing but the sound of lapping waves and encroaching wildlife to contend with, Justin Wastnage recently introduced his wife, his newborn son and his visiting British parents to the joys of riverside living. What could be more relaxing? Words and images by Justin Wastnage, who paid his own way and visited anonymously. 
There's nothing a visiting Pom loves more than a brush with our native fauna, especially if a nature documentary has told them it will kill them. So I was surprised at how muted the shriek that emanated from the bathroom was.
Bravery and wildlife make strange bedfellows. But the rural retreat offered by the Oxley Boatshed made me feel strangely at one with nature again, in a way no city break could have.
My stepmother had been quietly minding her own business when a classic hand-sized huntsman revealed itself to her by emerging from its spidery hiding place and shimmying up the wall.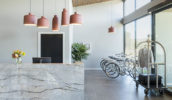 I was far from surprised at the hairy-legged arrival, being as we were in a hut (albeit a very well-appointed one) an hour north of Sydney on the edge of the Popran National Park. My stepmother, however, was less sanguine about the incident, which would have convinced her to pack up and leave had we not been marooned with only a tiny runabout skiff to take us back down the Hawkesbury River to Kangaroo Point and civilisation.
Her scream would have been louder, but for the fact that she and my father were over from the UK to visit their newest grandson, who was fast asleep and oblivious to the ruckus your average Australian arachnid can cause. He'd not been fed the constant diet we British get served up on our TV screens of the Crocodile Hunter, shark attacks and reality shows that pit unwitting C-list celebrities against the horrors of the Australian bush.
So while I calmly coaxed the huntsman down from the wall and into a cup, my stepmother retreated to the safety of the decking. We had another three days together, my wife, my son, my parents and the wildlife. Luckily the Oxley Boatshed has plenty of space.
A converted working boatshed, the building was beautifully restored into a private weekender before the owners begrudgingly turned it over to the holiday rental market. Approaching it by water taxi, its burgundy sliding doors are framed by black-stained timber. Inside we find massive floor-to-ceiling stained glass windows, incongruous in a boatshed, that separate us from the forest.
The feel is rustic, the décor eclectic. Set around a central fireplace, beautiful leather furniture demarcates lounge room from sitting room in the open plan main shed. An improbably long dining table stretches the length of the rear wall, one of five dining table options in Oxley, making it perfect for entertaining.
The kitchen is further testimony to this. Although only the staples, including olive oil, balsamic vinegar and fresh ground coffee, are provided, the cooking utensil shelf groans under the weight of a panoply of knives, peelers and assorted other devices. But rustic chic it is not. There's a mix of Aboriginal, Balinese and contemporary objets d'arts and paintings that do not quite gel with the more authentic nautical charts. Likewise, the bathroom has sleek, rectangular basins on one side and a seemingly original clawfoot bathtub on the other.
But Oxley isn't about boutique hotel minimalism. It's about relaxing. The nearest shop is in Stanley, some eight nautical miles upstream, which takes 45 minutes each way in our puny punt. So once you've hauled in your food and booze, just sit back and relax.
My father and I kayaked our way to the semi-submerged wreck of Australia's first gunship, the HMAS Parramatta, skirting past the oyster leases that are the livelihood of the permanent dwellers of this stretch of the Hawkesbury. Later we clambered up a mud track to find a secret freshwater spring and swimming hole. The girls, meanwhile, chatted, read books and flicked through the gossip magazines left by the owners.
Oysters, in no short supply hereabouts, were attached to the boatshed's pontoon and to its rocks. Had I been braver and armed with better shucking gloves, I would have reached down and harvested one or two.
Bravery and wildlife make strange bedfellows. But the rural retreat offered by the Oxley Boatshed made me feel strangely at one with nature again, in a way no city break could have. So I shepherded the huntsman back to nature, remained calm when a couple of goannas popped their heads in, and even solved The Curious Incident of the Half-Eaten Fruit by framing a nocturnal possum.
But just as other fauna, likely to be slithering metres away from our beds, went unmentioned, there was no way anyone was going to risk the outside dunny.
The Details
Where // 3 Yallaroi Pde, Dangar Island NSW.
Notes // From $890 per couple for a two-night weekend stay (cheaper midweek). Can house up to three couples. Boat access only; water taxis leave from Kangaroo Point, 45min north of Sydney. Unsuitable for pets or children (although babies are okay).
Contact // 0401 308 888, www.hawkesburyriver.com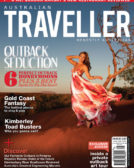 Enjoy this article?
You can find it in Issue 33 along with
loads of other great stories and tips.