A reader's story about their trip to the small NSW town of Gundagi
There's a trackwinding back . . .

Along the road to you-know-where, AT reader Jillian Graham discovers a huge treasure trove of history for such a small town.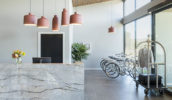 I well remember happy family holidays taking us along the old Hume Highway through Gundagai. As we approached, my mother would burst into that song, as well as covering a repertoire of tunes about the town. (I always wondered why she could sing so well and I was such a drone). These songs and poems celebrated the lives of those who passed through the area crossing the Murrumbidgee on that Sydney to Melbourne route. We'd religiously stop at the Dog on the Tuckerbox, the famous statue dating back to 1932. Countless photos through the years testify to this. We would then meander through the town, have a wander and make our way to a further destination.
More recently, we decided it was time for us to investigate Gundagai again. After that first engaging revisit, we enjoyed it so much that we now make it a point of returning often. The streets and houses have character and charm. There are cafes, restaurants and motels, all with claims to fame and names associated with history. Local wisdom and foresight have prevailed and Gundagai still has historic buildings and bridges with good signage and stories to tell. We find the galleries and museums most fascinating. They contain photographs, sculptures and documents which can appeal to all ages.
We can visit the site of Australia's worst flooding disaster. In 1852, the Murrumbidgee burst its banks and 89 of the 252 residents were drowned. Houses and businesses were lost. An aborigine, Yarri, rescued many in his canoe. There's a monument under the old bridges that tells this story – and the town was later rebuilt a little higher.
There are many other oldest and longest buildings/bridges/railway stations than can still be visited. Way back when, Gundagai was a port on a riverboat service that went to Adelaide. The discovery of gold in the area saw the arrival of bushrangers, with Ben Hall and Captain Moonlite the most notable "visitors". Moonlite was later jailed and trialled in Gundagai. Such stories of bushrangers and their activities are always a source of amazement to younger visitors and never fail to fire the imagination.
Its dramatic history aside, Gundagai is in a beautiful setting surrounded by lovely green hills, farms and properties, no matter which direction you approach it from. Some who visit are still in search of gold. Others enjoy a ride in a canoe down the Murrumbidgee or the Tumut. These rivers are popular fishing spots as well, with cooler mountain water bringing trout to challenge those interested. We just wander and absorb its atmosphere at different times of the year. I continue to be amazed that a town this size has such a tremendous history – remnants of which are still there for all to see – and the way the old blends so successfully with the new.
We've recently introduced younger family members to this town and are pleased to observe their awe and amazement about what they see. Gundagai must have special meaning to others as well – in Andre Rieu's recent Australian concert, the final number and encore was "Along the Road to Gundagai".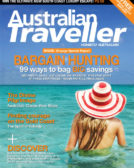 Enjoy this article?
You can find it in Issue 25 along with
loads of other great stories and tips.