Caravanning isn't just for grey nomads, writes Dorian Mode. But it helps if the caravan itself doesn't date from the Beatles' mop-top era. "Why are we towing an old van when for a few extra bucks we can stay in a cabin?" Dad growls at the boot of my newly restored Citroën DS, as we hitch up my 1963 Sunliner caravan. Dad doesn't get the idea of a retro holiday. Or the Citroën, aka "The Goddess" (déesse is French for 'goddess'). He drives a sensible car. "Herman", a BMW. Ever reliable and able to conquer Europe on a tank of diesel.
"Because it's all part of the adventure that is caravanning!" I say, waiting for The Goddess to rise on her ingenious fluid suspension – space-age stuff in 1955.
He regards The Goddess with suspicion. She in turn sneers at Herman.
My lovely Sunliner is constructed of the lightweight post-war wonder material that is fibreglass. Only 700kg – feather-light and aerodynamic compared to modern shipping-container-styled vans.
But the van is unbraked, so by the time we arrive at Lake Macquarie's fabulous Blacksmiths Beachside Holiday Park on the NSW Central Coast, I'm shaking like a crack whore from fear.
Blacksmiths is sensational. Nestled between a stunning beach and beautiful Lake Macquarie, it has a resort-style pool, kiddies' playground, tennis courts, excellent cooking areas and spanking-clean amenities. All for a mere $24 a night for two people – kids free! Now that's value for working families and lazy singles.
We drive The Goddess to a nearby fishing spot and hit a speed bump. SNAP! The clutch sinks to the floor. But not before my heart. Dad gives me a stony look.
I call the NRMA. Our cheery mobile mechanic comes within 20 minutes. He tilts his head and chews the arm of his sunglasses, studying the car like it's a cubist painting, before endeavouring to find the problem. Chuckling under the bonnet, he tells me everything is opposite. A motoring Lewis Carroll novel. He points to where the clutch cable has snapped.
"What should I do?" I ask.
"Avoid French cars designed by mad Italian sculptors," he probably thinks, but it comes out as, "I'll call the tow truck for you. First 20 kilometres are on us."
Dad offers a deadpan comment. "Is this part of the adventure?"
The NRMA man tows us back to the caravan park, calling local mechanics on the way – but without success.
Dad shakes his head and sighs. He fires up the BBQ before handing me a beer. "Here, share in my adventure."
I drink, making frantic phone calls. Fortunately, I am from the Central Coast: when you have mates here they seldom let you down. Dear pal Matt Sainsbury of JM Auto drives up with the right cable and fits it in the dark while his wife and two babies sit in the car. What a guy!
Back at the barbecue, I manage a smile over my steak. Dad chuckles, offering me some red wine.
"Wait! We'll have it in the caravan's 1950s aluminium cups!" I say. "Originals!"
"Don't bother," he says. "Sit. Relax."
"No. It's all part of the 1950s adventure!"
As I pour, the cup starts leaking over the table. As does the next one.
"These cups: not designed by the French, by any chance?" Dad asks.
Later, darting to the van in the heavy rain, I find half of Dad's bed is sodden. Sunliners – made from a single fibreglass mould – are waterproof, but the windows over his bed still have the original 1963 rubber seals. God! I'll never hear the end of this!
I take a deep breath and think. We are in waterproof sleeping bags: if I speak a lot with my hands and distract him with anecdotes about the French Resistance before lights out, he might not notice.
Despite such glitches, I've come to adore caravanning. I like that your kids aren't glued to cable TV or on the internet all night. They're forced to actually talk to you. Play games. Engage with you. Technology impedes family holidays: as a kid, you're not going to remember getting to level 28 on Super Mario Bros, but you might recall the first time you caught a fish with your Pop. Or when Mum laughed so hard playing cards, red wine came out of her nose. Those are the real treasures in life: family love compressed into moments.
I also like how people talk to you at the communal barbecue. I like how people lend you things you left at home. I like how people sing in the shower cubical next to you. You meet the real Australia in caravan parks.
And from what I can ascertain, that hasn't changed all that much since 1963.
We leave the following morning but the brakes still worry me. So I drive like escargot. I suddenly catch the conga-line of traffic behind me in my side mirrors.
One by one, each driver gesticulates madly when overtaking. I offer Gallic shrugs in mute reply.
Suddenly an old lady in a late-model Citroën shouts at me, waving her arms about. A Citroën, no less! I wind down my window as she screams, "Your van door is open, sweetheart! It's swinging wildly. You'll lose all your gear!"
Sacré bleu! I stop to secure it. Horns groan like cattle behind me. Dad covers his face.
As Dad hops into Herman to leave – snug in his Teutonic assurance – he is bogged for 20 minutes in my front lawn after the heavy rain. I hang my head.
When my wife and I finally get him out with duckboards and old carpets, he leans out of the window to ask, "Is the adventure over now?"
I offer a weak smile. "Au revoir, Papa."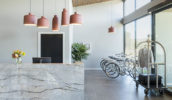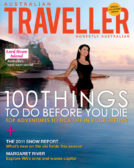 Enjoy this article?
You can find it in Issue 38 along with
loads of other great stories and tips.