For a very different perspective on the Emerald City, Rosamund Barton tries a leisurely kayaking tour of Middle Harbour.
Words by Rosamund Burton, who paid her own way and visited anonymously.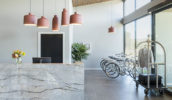 One of the joys of kayaking is being able to paddle along remote waterways, but as I join an informative and fun half-day tour to explore one of Sydney's best kept secrets, Middle Harbour, I can't help thinking that you don't need to be remote to feel as though you're in the middle of nowhere. After a 20 minute lesson on safety, paddling technique and rudder control, our group of 17, ranging from novices to kayaking enthusiasts, departs.
Welcome swallows swoop and circle the oyster-coated concrete pylons as we pass under the Spit Bridge. Houses with inclinators cling to the steep cliffs of Seaforth Bluff to the north, and to the south Long Bay stretches up to the suburbs of Cammeray and Northbridge. We pass a large, white,wooden, double-masted ketch and follow the shoreline past a row of dinghies pulled up onto the rocks just above the waterline, and a couple of red-legged seagulls standing on a boat ramp.
The further we paddle the fewer the houses, until all we see ahead is the bushland of Garrigal National Park, once the home of the Eora people. Red trucked angophoras and grass trees grow on the slopes of the headlands and, just below them, sculpted by the wind and water, the ochre-coloured Sydney sandstone skirts the water's edge.
In the middle of a 1400ft rope 320ft above the water he lay down and pretended to sleep before completing his aerial ambling
We stop for morning tea at the pristine Flat Rock Beach and are treated to freshly brewed coffee, watermelon, dips and Anzac biscuits, all of which have been surreptitiously stowed in the guide's kayak. Above us a creek cascades over huge boulders laced with vibrant green ferns before dropping to the sand.
It would be easy to believe that not much happens on this idyllic waterway, but it was here in Sugarloaf Bay on January 28, 1963, that actress Marcia Hathaway was attacked and killed by a bull shark while paddling in the shallows.
The sleepy-looking Bantry Bay, where the bush has metamorphosed from angophoras to mangroves and casuarinas, was from 1917 to 1974 a storage place for non-military explosives. Today the storage chambers and the stone wharf are deserted; the only sign of life is a cormorant raising its sleek black head before diving into deep water.
Middle Harbour is also a place for the spectacular. Henry Willis, a businessman and MP for Robertson in the first Federal parliament in 1901, built a gothic castle here. Named Innisfallen after an island on the Killarney Lakes in Ireland, it's complete with ornate parapets and turrets and is made entirely of sandstone mined in the area. And in 1877, Melbourne circus performer Harry L'Estrange, inspired by his role model Blondin, the first person to tightrope walk over Niagara Falls, decided to attempt a similar feat across Long Bay. In the middle of a 1400ft rope 320ft above the water he lay down and pretended to sleep before completing his aerial ambling, while thousands of spectators applauded continuously from boats and the shore below.
But today, three pelicans glide effortlessly into the water as we pass quietly back under the Spit Bridge and all too soon the tour of this magnificent area is over.
WHERE // Sydney Harbour Kayaks, at the base of the Spit Bridge in Mosman, NSW. NOTES // Half-day Middle Harbour tour $99 per person. CONTACTS // , (02) 9960 4389, www.sydneyharbourkayaks.com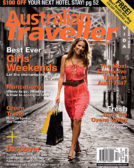 Enjoy this article?
You can find it in Issue 28 along with
loads of other great stories and tips.