Australian Traveller reader Wendy Varney embarks on an alpine sojourn to witness the changing moods of Mount Kosciuszko.

Yep, Thredbo was definitely the place to go. Summer had shed its last strong rays, we were well into autumn and savouring its coolness. I had an urge to go bushwalking and nothing can be more appealing to the walker than the Australian Alps.
For those who aren't seasoned walkers, there are huge benefits in taking the guided walks at Thredbo. No worries about getting lost, and if you get caught in a blizzard it's someone else's job to bring you out safely. The guides are also fonts of information, enriching enjoyment of this unique area.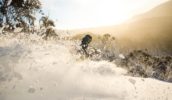 With this in mind, and with family in tow, I booked several bushwalks and logged on to the net for a cosy but not-too-costly place to call home for three days. Alpine Apartments seemed to fit the bill, so we booked, then went rummaging for any manner of warm clothing we could find. By April, Sydneysiders have usually forgotten where winter clothes are stored.
What a motley lot we must have looked, arriving in our borrowed and ill-fitting coats, non-matching and vividly contrasting scarves, hats and gloves. But how glad we were to be decked out appropriate to the weather and not to the fashions, for there had been a sudden change in the weather. Each day of that week I'd looked in on Thredbo's helpful web-cams, erected to keep abreast of snow conditions. Each day's views had signalled a bushwalker's paradise. But now surely we'd arrived somewhere else! Icy winds blew, our noses felt snow-capped and charcoal clouds swept across a grey sky showing none of the blue caught on those web-cams. Spectacular as the scenery was, indoors seemed infinitely more welcoming, so we headed inside.
Our apartment was just right: small, bright, clean and well equipped, with a three-bed loft above an inviting living area where, as it turned out, we were to spend the bulk of our time. Best of all was the location, about two minutes from the bakery (such weather invokes choc-chip fetishes). Our lounge room's large window presented a village vista and, behind it, the chairlifts and Alps being liberally sprinkled with snow.
We'd expected to be walking the Main Range the next day, but if it's possible for snow to beat down, then beat down it did. There was no chance of traipsing through snow for the 19km that take one past the mainland's best glacial lakes and highest mountains. While disappointed that the walk was cancelled, we accepted being at the mercy of the weather gods and drowned our sorrows with copious quantities of cappuccinos at the bakery.
Fired with caffeine but confined to our apartment, we soon found we had access to a movie channel, a novelty for us. It seemed strange to have gone so far and to be sitting in one of the most scenic spots in Australia only to be watching old reruns. But they were good movies and the weather was more conducive to this activity than most others. No matter the season, and no matter what hopes are held for Thredbo's multitude of winter and summer activities, you must be prepared to have fun indoors if conditions dictate it.
As it turned out, both our guided walks were cancelled, the snow being too deep and the conditions simply too perilous. This served as a firm reminder of the real nature of these mystical mountains. Anyone who has flown over both the Australian Alps and the Swiss Alps can attest to the contrast. While the Swiss Alps give rise to jagged points, the good old Aussie Alps have curved tops, a testimony to their age and charm. Caressed with snow, they give the illusion of easy accessibility and only moderate challenges, but up close the truth is revealed. These Alps are more expansive than the Swiss Alps and while their erosion is obvious from afar, it's the gullies and rugged nature of the ranges that bear witness to both their dangers and attraction.

"No mountaineering equipment required, Kosciuszko welcomes all, regardless of age or fitness level."

Our sojourn wasn't wasted, though it proved more sedentary than I'd hoped. Inclemency yielded long enough for us to yelp down the sides of the mountain on bobsleds, an experience not to be missed. The speed and ease of the ride contrasted with an earlier activity; that morning had been blissfully fine, though bitterly cold, so we'd made our way up in the chairlift with the hope of reaching Mt Kosciuszko. We reached a point at which it could be seen and almost touched, you'd swear, but we knew there were many more miles of snow-trudging between us and its powdery peak. So we gazed and withdrew, in dire – though perhaps exaggerated – fear of hypothermia.
I've climbed Kosi before, not a feat but certainly an experience and one I felt I was sharing with half of Australia on that sweet summer's day, so different from this expedition. A raised path has been laid down to protect the fragile alpine ecosystem, and on this visit it was invisible in places, causing walkers to fall off into the snow, up to their thighs sometimes. (It's moments like these you know you've skimped on the woollies!) But on my earlier summer walk, I'd looked around at the bright-eyed walkers, some pushing strollers and wheelchairs, some in their twilight years, but none being turned back by the mountain. Of all the peaks that are the highest on their respective continents, Kosi must be the most democratic. No training, no Sherpas, no oxygen tanks or mountaineering equipment required. Kosi welcomes all, regardless of age or fitness level.
And what a welcome it is in summer when a wealth of wildflowers nod in greeting, clustering around chilly bogs and adorning the alpine fields. Delicate and prodigious, they herald the thaw and the moderation of Kosi's brisk extremes.
The moods of the mountains couldn't have been more different on my two visits. My respect was compounded by the contrast and complexities of this precious ecosystem, now threatened, tragically, by global warming. It's not enough to visit this alpine wonderland where some of the world's oldest mountains take their stand. We should act to curb the threats to this fine alpine area, so that following generations may also visit and wonder at its secrets.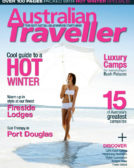 Enjoy this article?
You can find it in Issue 16 along with
loads of other great stories and tips.