I saw this location, just south of Cooma airport, whilst driving to the snow fields.
The bleak, hard scenery really impressed me, so a few weeks later I got up very early and went back to get this shot in the early dawn.
Patches of fog were rolling through with the breeze and the cold kept freezing the condensation on the lens and filter as I waited for the scene to be revealed by the morning light.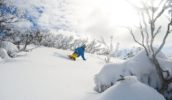 The image is stitched together from seven exposures using 'Hugin', a free, open source software package.
I used a graduated filter to balance the sky and foreground exposure. After stitching together and some minor adjustments, vignette and sharpening was made in Aperture.
The image was shot in 2011 using a Pentax *ist DS, 6megapixel SLR camera and kit lens.
Lens: SMC Pentax-DA F3.5-5.6 18-55mm
Focal Length: 7 overlapping shots at 18mm
Exposure: ISO 200, 0.5s, f16
Filter: ND0.9 Hard Graduated Filter
Philip Howell, Kambah, ACT
Calling all Australian Travellers!
Think you've got a winning photo? Send us the best Australian travel image you've ever captured for your chance to win a great prize. In the first instance, email a low-res pic to: photo@australiantraveller.com. For this incredible winning image, AT reader Philip Howell has won a Tamron SP AF70-200mm f/2.8 Di LD (IF) macro lens (model number A001), valued at $1249. This wide-aperture lens features low-dispersion glass for reduced chromatic aberration, and internal focusing. See tamron.com.au