Privately-owned Mogo Zoo with endangered and exotic species
Beach, rainforest, fish 'n' chips, old gold rush town . . . and a rare white lion?! Yep, this is Mogo Zoo.
On your NSW south coast journey you can drop in on probably the most successful private zoo in Australia, full of exotic and endangered animals that will make you gush. The animals are housed in very spacious and "considerate" enclosures; this is, after all, a serious conservation project. Now 14 years old, this private operation has done very well to be so much more than a glorified petting zoo.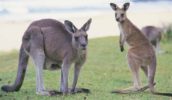 Mogo Zoo has successfully bred in captivity the highly endangered and difficult to manage snow leopards, marking their successful breeding for the first time in 15 years in an Australian zoo. The startling and shimmering Golden Lion Tamarinds, another on the highly endangered list, are also part of the zoos expanded Primate Island, which is home to a stunning array of primates from all corners of the globe.
WHERE // Mogo is 10km south of Batemans Bay, 280km south of Sydney, on the Princess Highway, and Mogo Zoo is around 1km on Tomakin Rd from Mogo.
DID YOU KNOW? // The Pygmy Marmoset, also found at Mogo Zoo, is the world's smallest primate, between 12-15cm in length and weighing between a feathery 85g and 140g – half the length of this page and weighing less than the magazine you're holding.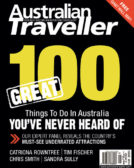 Enjoy this article?
You can find it in Issue 14 along with
loads of other great stories and tips.