AT's Wheelie Traveller makes the most of a holiday at home on the NSW South Coast, taking advantage of her favourite local activities.
My latest family travel plans all fell through due to various factors. The list of woes began with my father-in-law being on crutches after recent knee reconstruction surgery. My son then sprained his ankle on his new trampoline and needed his grandfather's shortened crutches to get around; Poppee had to switch to a pair of my old walking sticks. No-one was keen on a long drive, especially with that recent bout of incessant rain we had, so Floriade was out (I'll get there one of these years). Not to be deterred, I managed to convince everyone that we would make the best of a bad situation and enjoy a splendid holiday at home with a few short day trips in our local area!
Before I continue, I must confess that we are extremely lucky to live in the very beautiful Jervis Bay area on the NSW south coast, so a holiday at home for us is certainly no hardship. People pay thousands of dollars a week in peak holiday periods to rent houses with ocean views just a few streets away from our home.
With the overcast weather set in, outdoor pursuits were fairly low on the priority list and our thoughts turned instead to eating out, as they often seem to do on holidays. We have been driving past Gerroa Boat Fisherman's Club for years, always intending to check out the magnificent view and seafood restaurant 'one day' so that seemed like a good place to start. In addition, our medley of mobility devices put us in a perfect position to assess the Club's accessibility, which was more than adequate for all of us.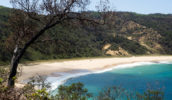 There was something for everyone in our group at the Seahorse Brasserie (including my favourite, lemon sole) and even on a cloudy day, the view is still impressive. All round, the day trip was a success and was followed up at home with numerous games of cards and Scrabble, a must on a rainy holiday wherever you are.
The second outing on our holiday at home was really just for me as I left the family to their own devices and went sailing! I have mentioned Sailability in a previous blog and no doubt will again as I am enjoying it immensely. Sailability is an organisation that aims to encourage sailing for people with disabilities and I am lucky enough to live within scooting distance of my local Sailability Club. If you live near a body of water, I highly recommend that you find out if there is a Sailability Club operating there. Alternatively, give it a go next time you are travelling. There are clubs all around Australia and the volunteers are experienced in assisting wheelies in and out of the boats. Competent sailors will take the helm and introduce you to the wonders of sailing while you sit back and enjoy the ride. Sailing has taken on an extra dimension for me this season because I am now able to volunteer as a sailor and introduce others to this enjoyable pastime. My Club provides regular sailing days for local schools and it gives me such joy to share this experience with disabled and disadvantaged kids who may otherwise never have the opportunity to try sailing. As Ratty from Wind in the Willows asserts: "…there is nothing – absolutely nothing – half so much worth doing as simply messing about in boats!"
We filled the rest of the school holidays with simple things: a breakfast out at The Deli on Kinghorne in Nowra, which is not only accessible (including the toilet) but has delicious food as well; relaxing visits at home with friends; and many, many more games of cards and Scrabble. With three of the five people in our party temporarily or permanently disabled, and a forecast of more and more rain, a holiday at home turned out to be the perfect choice.
Gerroa Boat Fisherman's Club // www.gerroafishos.com.au
The Deli on Kinghorne // www.facebook.com/thedelionkinghorne