I recently attended a function in Batemans Bay and needed to stay overnight. After calling five places, none of which could adequately accommodate our group (me, my husband and two nine-year-old boys), I was put in touch with Eurobodalla Coast Tourism who thankfully managed to find something for me in nearby Batehaven.
The Abel Tasman motel provided us with an accessible double room and an interconnecting twin room for the boys for just $150. To top it off, the owner was friendly, helpful and more than happy to hear my suggestions for some minor improvements to make things just that little bit easier for his wheelie guests.
When my husband checked in, the owner quickly fetched the purpose-made ramps that allowed me to drive my scooter from the accessible parking space (right outside the room) and into our home for the night. There was a tiny step down into the room, which would be no problem for a manual wheelchair but was a little awkward for my scooter. My husband stacked a couple of rubber doormats to 'fill the gap' which allowed me to enter and leave the room. I pointed this out to the owner who intended to address the situation for the future.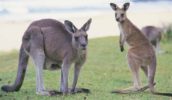 The rooms themselves were nice and clean and the boys were very excited to have their own space; for wheelies not married to their carers, the interconnecting room provides the perfect setup to allow for some privacy and independence. The owner told us that he gets a lot of repeat business from wheelies who need to travel with a carer.
When we pointed out that there was no shower chair, a plastic stool was promptly brought to the room and this was adequate for me to shower independently. Unfortunately there was no hand-held shower which made things a bit of a struggle. When I mentioned this later, we learned that they usually switch the shower attachment when the room is booked by a wheelie and the owner apologised for the oversight. I also suggested that a proper, portable shower chair with non-slip rubber feet would be an economical improvement.
My only other suggestion would be to move the tea- and coffee-making paraphernalia from inside the wardrobe to the desk under the TV as that would provide some knee space and make it easier for wheelies to get a caffeine fix. Although I must admit, we chanced upon a great little market just over the road in Corrigan's Beach Reserve with a mobile coffee van and terrific bacon and egg rolls from another stand for breakfast. While the boys then amused themselves on the playground equipment, including a very impressive flying fox, we browsed the market stalls.
I am becoming increasingly frustrated by the lack of choice when it comes to finding wheelie accommodation. Before every trip away, it is now a matter of course for me to spend a great deal of time on the phone in order to find something that is appropriate for my needs and I am usually left with very few, if any, choices. In this instance I was hoping to find something in Batemans Bay itself so that I could scoot to the function I was attending. The Bayside Motel had no 'accredited' accessible accommodation, although wheelchair users had stayed before (whatever that means).
The Zorba Motel had one room with wheelchair access, but no way of accommodating the boys in an adjoining room. The Clyde River Motor Inn right in town didn't have anything suitable but the person I spoke to was extremely helpful and put me in contact with Eurobodalla Coast Tourism. Just out of town and across the bridge, the Big 4 Batemans Bay and Easts Riverside Holiday Park was sounding very promising until I called back to book and in the course of the conversation discovered that there was a lip into the shower and that the toilet, which was separate from the main bathroom, had no grab rails at all.
The person I spoke to admitted that she had only just needed to re-locate a wheelie who couldn't manage in their 'wheelchair friendly' cabin to one of their other options which had no purpose-built modifications at all! Fortunately I stumbled across the Abel Tasman Motel which turned out to be a pretty good option (and I certainly couldn't complain about the price).
More information: