AT's Wheelie Traveller spends a rainy weekend in Robertson, just inland from the NSW South Coast.
As yet, camping in my wheelchair has eluded me but we have slowly been preparing for it so that we can share some time away with special friends and test out the new tent that our nine-year-old son Kai has been desperate to try. Camping with a wheelchair requires even more extra planning than a regular trip away so we set about finally getting our camp on.
Our friends suggested Pretty Beach in Murramarang National Park as it's only about an hour and half from home so we could do an emergency bail-out if it all got too difficult for me. The web site noted that wheelchair access was 'medium' (whatever that means) and that there is a shower and toilet accessible by ramp.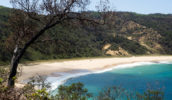 We were all set to give it a go. We had bought the tent, borrowed a raised camp bed and pumped up the wheels on my manual wheelchair (called 'Fat Betty'). I intended to use my scooter ('Little Red') to get out and about but transfer into Fat Betty to get over the lip of the tent door. All the plans came to a screaming halt when two days before, I called the Pretty Beach camping office to confirm the situation with regard to accessibility. The helpful gentleman explained that there was no shower and just one accessible toilet in the day-use area approximately 80 metres from the camp site and reached by a gravel path.
The forecast was for some storms and showers so trips to the toilet in the middle of the night would have been quite a challenge. I asked about their two cabins in the event that I needed a last-minute alternative, but neither one is accessible. Disappointed but appreciative of the man's honesty, I reluctantly pulled the pin. As it turned out, our friends still went and felt that I probably could have managed so we will try again soon.
Looking for an alternative outing, we settled on a visit to Robertson, a small township in the Southern Highlands. Very picturesque, Robertson was used as the location for the movie Babe. I had wanted to check out The Robertson Inn for a while as my cousin worked on the renovations there to make it wheelchair-friendly. As an added bonus, my dad and step-mum live nearby, so we called to ask if they could meet us for lunch; unfortunately my step-mum was busy but Dad came along.
Driving in the Southern Highlands is always a feast for the eyes, whatever the weather, which was lucky because there were showers on and off for the whole day. In fact, it's the frequent rain that obviously gives the area its glorious lushness and lets the many keen gardeners indulge their green thumbs.
We were hoping to have an early lunch so we arrived at 11:30am only to discover that the kitchen didn't open until 12. Even though we were the only three people eating in the whole place (it was a Tuesday), our meals took almost 40 minutes to arrive. The food had good intentions, but didn't quite live up to them. The beer-battered fish and hand-made chips were passable but not crisp enough to really impress and the chicken schnitzel was large but certainly not the best my husband has ever had.
Overall, the Robertson Inn (incorporating Winston's Bar) is pleasant enough, and my cousin's handiwork made the access easy, however I wouldn't go out of my way to return. Physically, the place has a lot going for it, including a large deck that must surely be very inviting in fine weather with live musicians in attendance, but I've read mixed reviews about the food and the child-friendliness in the past. It seems a shame to have worked hard on the building only to be let down by the food. For the record, I should mention that there were no complaints about the beer!