Jervis Bay's main town of Huskisson is a Top 100 must for its location, great food, accommodation and friendly locals. Part national park, part marine park and fringed by glorious beaches, Jervis Bay is NSW's southern summer paradise, with a beach or swimming hole to suit swimmers and surfers of all levels.
AT Reader Daryl Ryan loves Husky because "it's still small enough to be a friendly town but it packs in all the treats for the holidaymaker. The boys can fish while mum and the girls can shop or have a nice lunch. It's close to some bigger centres if you need to get something out of the ordinary, but for most holidaymakers you can get all you need."
"White sands, blue waters and a great old pub and beer garden." – Matt Cleary
Hyams Beach is a local fave, and the Hyams Beach Cafe is great for breakfast, lunch and dinner. Husky's dining options are a cut above the usual fish 'n' chips and RSL bistro, with Indian, Thai, Mexican, Italian and everything else. The Husky Pub has an amazing beer garden, while the old Chinese restaurant on Owen St remains the same as it was in 1975. Chef Scott Mackenzie migrated south from Sydney's Whale Beach to offer a culinary experience at The Deck, while Gunyah at Paperbark is a delicious dinner spot set in deep national park. Stay a night in one of Paperbark Camp's luxury tents – the private outdoor showers and close proximity to nature is liberating, but make sure you zip up the tent to avoid a visit from our cheeky, furry friends.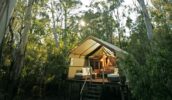 Where? // On the shores of Jervis Bay, 185km (2hrs 15mins) southeast of Sydney.
Did you know? // Huskisson supported a major boat-building industry at the turn of the 20th Century. A visit to the Lady Denman Heritage Complex with its maritime museum will give you a great insight into this.
Return to: the 100 Best Towns in Australia