Less is more when Vanessa Waller, aka The Wheelie Traveller, plans to host a reunion in Huskisson on the NSW South Coast, finding more wheelchair-friendly options at the affordable end of the spectrum.
My husband Glen and I have long been toying with the idea of a trip away for a reunion with friends from school. This must in no way be confused with a school reunion! The aim is not to reconnect with people we haven't spoken to since we finished school but rather to spend some quality time with school friends we are still in close contact with.
Conveniently, Glen was in the year above me at school (since Year 5!) so we have a large collection of shared friends from the old school days, but we are all now of an age where we are juggling extensive family and work commitments. Add to this my accessibility requirements and this reunion weekend is going to require some serious planning.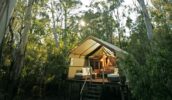 So far, it seems there will be around 45 people to take into account, including kids of all ages. We have tentatively chosen Huskisson on the New South Wales South Coast as our preferred destination, not only because it is a beautiful coastal town but also because we live near enough to be able to visit every so often to thoroughly research everything on offer there.
Perhaps foolishly, we haven't yet decided on a date for the reunion, so we have the luxury of taking our time checking out our options.
We have started with a few visits to the Husky Bakery which is both child- and wheelchair-friendly. There is a covered playground at the rear of the outdoor eating area and plenty of long tables for groups to sit at. There is space for prams and wheelchairs, although the furniture arrangement could do with a little tweaking at the top of the ramp to provide more space for this important pathway of travel. Friendly service, good bakery fair, standard coffee and milkshakes served in 'old days' metal containers ensure there is something to keep everyone happy.
Food will of course be important for the reunion weekend, so we have taken it upon ourselves to thoroughly research as many dining options as possible! We have sampled Seagrass Brasserie in Huskisson and the Gunyah restaurant at nearby Woollamia, which were both fantastic but not really suitable for large groups of children.
Stonegrill restaurant in the main street of Huskisson, however, is obviously quite used to accommodating kids and wheelies. As ever though, I would recommend calling ahead and discussing any special requirements. On the night we were there for dinner, our table was ready and waiting with a space made to accommodate my chair. A word of warning: if you choose to cook your meal at the table on one of the special stone grills, make sure the kids know just how hot they are and not to touch them under any circumstances!
With the food research well under way, I started to tackle the accommodation issue. There are hundreds of holiday homes available to rent in and around Huskisson so I thought it might be fun to find a few places to accommodate us all. With so many kids involved we want to make sure that we all feel relaxed enough to really enjoy the weekend. Holiday homes would give everyone a few comfortable and well-equipped bases to share and the flexibility to opt in or out of trips to beaches, parks, cafes and restaurants and to work around the various nap times and meals required in such a large group.
As I am the only wheelie, it makes sense to sort out my accommodation first because I will definitely be the most inflexible. I cast my net wide and rang the six largest real estate agents servicing the Huskisson area. While they were all very friendly and genuinely wanted to help, not one of them had a single wheelchair-accessible holiday rental property on their lists. I am sure there is a huge opportunity here for landlords as it's not just wheelies looking for accessible properties; elderly holiday makers and families with young children are surely just as interested in renting holiday properties with no stairs, wider doorways and large bathrooms with access and safety features such as grab rails and non-slip showers without steps.
At this stage, my best bet seems to be caravan parks, most of which have been re-badged as 'tourist' or 'holiday' parks to take into account the wider accommodation options and facilities they now offer. Within a few mouse clicks, I had located two good possibilities in Huskisson and was able to find all the information I needed without even making a phone call. This saves time for me and the staff at the parks too. I could look at photos, floor plans, maps and price lists all in my own time.
I am now tossing up between a cabin at Huskisson Beach Tourist Resort and one at Huskisson White Sands Tourist Park. There is plenty of scope for the rest of the group to join us at the park in a cabin, van or tent. The communal barbecue areas would let us all prepare and share meals together and the playgrounds, pools, tennis courts and absolute beachfront location would surely all be big hits.
I am fast becoming a fan of these great parks and feel that other types of providers in the industry could learn a lot from their accessible facilities and great web sites. Coupled with the fact that many of these parks are positioned on prime beach-front land, they have a lot going for them.
When we decide which one we are going to stay at for our reunion, we will even be able to leisurely stroll or wheel up to the main street of Huskisson for meals, snacks, other playgrounds and a spot of holiday shopping. Oh dear, we had better set ourselves a deadline and lock in a date before all our kids are planning their own reunions!
The Details
Huskisson Beach Tourist Resort // Special access cabin is number 18 "Collingwood" // Ph. 1300 733 027 // www.holidayhaven.com.au/Huskisson-Beach-Tourist-Resort.htm
Huskisson White Sands Tourist Park // Special access cabin is number 11 "Beecroft" // Ph. 1300 730 028 // www.whitesandstouristpark.com.au