AT's Wheelie Traveller ventures down the NSW South Coast to find the seaside town of Kiama is starting to wheel in the right direction…
Kiama is a charming seaside town about 90 minutes drive south of Sydney. If you prefer to take the train, the station is wheelchair accessible and close to town. Either way, the journey to Kiama provides some spectacular scenery so be sure to bring you camera. With its stunning coastal position, numerous cafes and many shops for browsing, it has long been a favourite destination for holiday makers and day trippers alike and is definitely worth a visit on a glorious spring Sunday in September. Kiama Council has even produced a map with helpful information for wheelies about town.
The detailed Mobility Map is available online which is great for planning your visit to Kiama; not so great when you forget to print it as I did. Luckily the nice people at the Visitors Centre were happy to print one for me (although I really should have asked if they could print it in colour as the paths on the map are all colour-coded according to gradient; whoever was responsible for that map really did a thorough job!).
Armed with my map, scooter, husband and nine-year-old son, we ventured up past the lighthouse towards the famous Kiama Blowhole, a natural formation in the volcanic rock. I stayed at the accessible viewing platform while the boys ventured closer to the action to wait for the waves to produce their famous spout up through the hole in the rock. The swell was not sufficient to provide a spectacular show, but it was still enough to impress my son and the many visitors.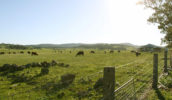 Next stop was Kiama Seaside Markets, which are held on the third Sunday of the month. There is the usual array of market stalls and fairly good access across permanent paths, some dirt and short grass, although I wouldn't recommend it in the rain. From the Markets, we made our way up to the main street via Hindmarsh Park which provides a lovely open space in the middle of town for picnics and play equipment for the younger children. The pedestrian crossings, accessible parking spaces and disabled toilets are all marked on the Mobility Map and all paths are classified as 'Level', 'Sloping', or 'Steep' so it is easy to plot your way.
There are plenty of places to stay in Kiama, although the Visitors Centre does not have a guide showing only accessible accommodation. You can do a search online and filter the results to show only those properties with disabled access, however I would certainly call to confirm the details before booking anything.
Overall, Kiama is a lovely town that is trying hard to do its best for visiting (and resident) wheelies. There is still a large number of older shops with small steps that are obviously not accessible, but hopefully this will be addressed by Council and the Chamber of Commerce in the future.
For more information visit:
www.kiama.com.au
www.kiamachamber.com.au