One of the best Australian beach holidays, Merimbula accommodation and attractions options include luxury, rustic, camping and affordable while you can enjoy great surf, family beaches with safe swimming, secluded spots, national parks and more.
It is still one of those laid-back Australian coastal towns without a dress code or attitude problem. Until recently, it was pretty hard to get a good coffee, but times are changing – and slowly enough for it to be a good thing. The sense of community here is strong but locals are friendly towards outsiders, because the tourism industry keeps this town afloat. The main attractions are nature-based: great beaches for surfing; protected nooks and safe swimming for kids; tidal lakes; rivers; and coast-hugging national parks. Pretty spectacular stuff.
Note: You can't do a story on Merimbula without including nearby Pambula. These twin towns are joined at the hip.
WHERE IS IT?
A seven-hour drive along the Pacific Hwy from Melbourne or Sydney; a three-hour drive from Canberra. Regional Express flies from Melbourne and Sydney (tickets from $140 one way online). A bus from Sydney's Central Station costs $69 each way with Premier Bus Services; from Melbourne's Flinders Street with V/Line it's about $83 return; from Civic in Canberra with CountryLink it's just under $90 return. All these services run daily.
THINGS TO DO IN MERIMBULA
If you're self-catering (a great option), stock up at the local Woolies. Roam Market and Main Sts for beach gear and homewares. Of special note is Bird in a Tree, an interior décor shop brimming with patterned cushions, woollen throws and chic Balinese paper lanterns. On rainy days, catch a new release at the cute Picture Show Man Cinema. On the third Sunday of every month, check out Merimbula Markets for second-hand stuff and local produce. The locally based Saucy Spice Co's stall features fresh spice mixes for curries and stir-fries. You can ride along the bicycle path from Merimbula past the airport and golf course all the way into Pambula Beach (the full ride takes about an hour). For a gentle nature experience close to town, try the Merimbula Boardwalk. The 3.4km round trip starts at the Main Bridge on Market St and meanders through rainforest, beach and bush. It takes about 2hrs if you stop to enjoy the scenery.
THINGS TO DO IN PAMBULA
Cute historic timber cottages-cum-stores flank Pambula's main drag, Quondola St. There's a florist, chemist, wedding dress maker, arts and crafts store, pub and an eclectic vintage shop, Bowerbird Antiques. The Leslie Brown Studio, a shopfront exhibition space, features the work of local fine artists including Les himself, who works out the back. Shopping addicts will love Eve of Pambula, a colourful shop featuring covetable clothes and accessories. Foodies will sniff out boutique breads (such as honey sourdough) and scrumptious danishes at Wild Rye's Baking Company; Pambula Wholefoods, which also stocks Saucy Spice Co mixes; and JD's Meats, a biodynamic organic butcher. Just out of town on the Princes Hwy, Oaklands combines a plant nursery with a petting zoo, antiques store, art gallery, restaurant and vintage vehicle museum.
THINGS TO DO OUT OF TOWN
Drive through dense bushland to the rolling green hills around Candelo, a gorgeous heritage town halfway between the coast and the mountains. On the first Sunday of the month you'll find the largest community market on the NSW south coast. There are often over 300 stalls, selling everything from live animals to hand-made soap and collectibles.
Other nearby towns to explore include Tathra (where you can catch your own prawns at the river mouth), Eden (visit the Killer Whale Museum), Cobargo (for tea rooms and antiques), Bermagui (Montreal Goldfield) and Bega (Pioneer's Museum, Bega Cheese Heritage Centre).
GET BACK TO NATURE
Whale-watching season is from September to November, so you've missed it this year, but you can spot dolphins, penguins and seals year-round. There are loads of wilderness adventures to be experienced. Bournda National Park is 40 minutes north along the Sapphire Coast Drive. You can camp at Hobart Beach (you'll need to book over summer) or just enjoy day trips to its many walking trails, which lead past coastal lagoons and stunning scenery. South from Pambula, Ben Boyd National Park is where you'll find the lighthouse-to-lighthouse walk – from Boyd's Tower to Green Cape Lighthouse. There's also some great 4WD tracks. If you want more than a daytrip, there are lots of coastal camping options here too.
MERIMBULA'S MANY BEACHES
Surfers love Short Point for its perfect swell. It's a patrolled beach with a big car park and kilometres of sand to spread your towels out on. Even in the height of summer, there's always somewhere to sit. If you follow the coast from here back towards town, you'll find Middle Beach just around the headland. This is a more protected beach and great for rock walks and snorkelling, although it is unpatrolled.
For families, Bar Beach is great because it's protected from northerly winds. You can snorkel, swim and kayak here, or use it as a paddling-out point for surfing The Bar – near where the ocean meets Merimbula Lake.
Main Beach is a patrolled surf beach that can be accessed just over the bridge that leads out of Merimbula's main township. This is where the Mambo Merimbula Classic is held every summer, with competitions in kite surfing, stand-up paddling and wave sailing.
Mitchies Jetty Beach, around near Fishpen, is particularly good for toddlers. There's no surf here, just sand for sandcastles and calm, clear water for splashing in. It's worth making the short journey to Pambula Beach, just a 15-minute drive away, even if you're not staying there. At 6km long, the beach seems to stretch forever and, because it abuts Ben Boyd National Park, it's a wonderfully natural environment. There are left- and right-hand breaks off the beach for surfers and body boarders to enjoy. The mouth of Pambula River is great for young children; it's calm and good for a paddle.
MORE WATER SPORTS
››Surfing: If you have your own gear, part of the fun is finding your own waves. However, if you've always wanted to have a go, think about hiring a soft malibu surfboard ($40 for a half day) or taking a lesson through Coastlife (two‑hour group lesson is $55).
››Sea kayaking: Ocean Wilderness Sea Kayaking offer half-day, full-day and overnight kayak trips around the Sapphire Coast, from $80 per person.
››Diving: Merimbula Divers Lodge has two boats that go out for shore, deep water and wreck dives seven days a week. You can buy or hire gear here, take a PADI or SSI course and even stay – there's accommodation for up to 24 divers.
››Fishing: Charters head out from Merimbula Marina. This is also where you'll find whale-watching and dolphin tours.
››Leisure on the lake: For something more sedate, hire a canoe, pedal boat or rowboat to take in the tranquillity on Top Lake.
MERIMBULA FOR FAMILIES
For young families, Spencer Park is great as it's centrally located, a grassy strip sandwiched between Main St and Merimbula Lake. It has barbecue equipment and swings, and at low tide you can walk through shallows to the sand bars.
If rain puts a dampener on your beach adventure, you can still get a swim in at the newly opened Sapphire Aquatic Centre at Pambula Beach (open year round; $15 for a family visit – two adults, two kids). The Aquarium at Merimbula Wharf has 27 fish tanks and an ocean tank to keep kids entertained (open 10am-5pm daily. Fish feeding time is 11.30am Mon, Wed, Fri).
Magic Mountain fun park has water slides, a roller‑coaster and rides. Most of the year it's free entry with a pay-per-ride system, but in peak season (between December 26 and January 24) entry prices are charged. For tenpin bowling, video games and 18-hole minigolf, head to Top Fun. Potoroo Palace is the place to see native animals such as bare-nosed wombats and koalas up close (family entry $47.50 – two adults, two kids).
WHERE TO EAT
Dining on the waterfront is always a treat, but summertime is peak season so you should expect to fork out when you dine out with a view. For breakfast, the Waterfront Café fills up fast. Its granola and honey yoghurt is a bit steep at $16, but bacon and egg rolls are half the price at $8. If you like your coffee strong, ask for a double shot. Pier One has a $12 lunch menu – I recommend the rump steak, chips and salad. It also has a kids' menu. Five minutes from town, at child-friendly Bar Beach, there's a cute little lock-up kiosk that serves espresso coffee and healthy snacks, which are relatively cheap despite the captured market.
Nice dinner options include Merimbula Wharf Restaurant (also open at lunch) – it's the place to go for sit-down seafood with an ocean outlook – and Wheelers Seafood Restaurant, which offers views over Top Lake and serves up Wheelers Oysters, fresh from its own farm. You can grab takeaway or eat in for lunch and dinner seven days. It also runs oyster tours at 11am from Mon-Sat. If you just feel like grabbing takeaway fish'n'chips, locals recommend the Fish Shop on Main St, next door to the movies. It hand-cuts potatoes for its chips.
WHERE TO STAY
There are heaps of caravan parks, holiday rentals, hotels, motels and campgrounds. Arguably the most upmarket option is Coast Resort, whose cube-like, minimalist luxury apartments have had mixed reviews. Chic or characterless? Well placed or overpriced? Hemmed into the small Fishpen area, also home to less salubrious holiday apartments, it offers a two-bedroom apartment from $355 per night, three-bedroom penthouses from $540. For the money you'll get a better view and a chic coastal interior at the Beach House at Merimbula Beach Holiday Park. Perched above Short Point, it costs $615 per night, has four bedrooms and sleeps eight. The same park's Oceanview Spa Villa sleeps six and costs $399 per night. Pick of the in-town cheapies is the Ocean View Motor Inn. Queen family rooms sleeping four cost from $180 per couple. Top of the affordable family options is Pambula Beach Caravan Park: it has morning kids' clubs, a jumping pillow, general store and The Broken Oar restaurant, and it's in Ben Boyd National Park. A standard cabin sleeping four costs from $130. (All prices are peak season.)
FIVE REASONS WHY YOU SHOULD GO TO MERIMBULA NOW
It has many phenomenal beaches that suit hard-core surfers, paddle-boarders, swim-between-the-flag types and those still in floaties.
Seafood. Eat fresh from the oyster leases or fish straight off Merimbula wharf, where you can hook the same catch as deep-sea fishermen, such as yellowtail kingfish and bluefin tuna.
Because it has loads for kids to do, even if it's raining: zoos, aquariums, amusement parks and a cinema. They won't get bored.
For full immersion in nature: coastal parks and hinterland forests offer serene hikes and secluded campsites.
For its events: in January there's the Sapphire Rock Concert. April sees the Merimbula Game Fishing Tournament. Each June the town hosts the Merimbula Jazz Festival, and there's a Hot Rod Festival in July.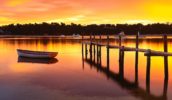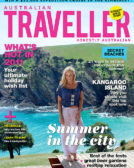 Enjoy this article?
You can find it in Issue 36 along with
loads of other great stories and tips.