Recommended by AT readers Nahum and Renee Hall, Tilba Tilba is a timeless town in southern NSW.
The Princess highway bypasses this rural nugget and believe us – this is a very good thing indeed. The halt of progression in this unique town offers a chance to time travel to a perfectly preserved heritage village.
Tilba Tilba came to prominence with the discovery of gold in 1850 and afterwards relied heavily on the dairy industry to thrive. Now a popular destination for holidaymakers travelling around southern NSW, its dotted with art galleries, sweet shops and antique stores to indulge your old-world desires.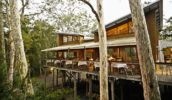 It has a knack for preserving its 19th Century charm without being sickeningly kitsch – a skill all on its own. Nearby Mt Dromedary (Gulaga), with its rolling hills and at times eerily descending mist, is crisp and refreshing with a century old cottage nestled between woodlands and flowerbeds.
A semi-taxing walking track to the summit of Gulaga National Park Foxgloves Spires reveals a luxuriant garden nursery built around a farm cottage, complete with cafe and – you guessed it – another antique shop.
Where? // 365km (5hrs) south of Sydney or 236km (2.5hrs) southeast of Canberra.
Did you know? // Tilba Tilba is regarded as so picturesque and unhurried that it has become a popular setting for many advertising commercials.
Return to: the 100 Best Towns in Australia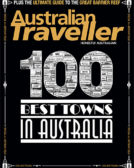 Enjoy this article?
You can find it in Issue 26 along with
loads of other great stories and tips.