With iconic views, superb weather and a world-class harbour, Australia's first city is the perfect place to learn to sail, or at least try to. By Leanne Hudson
"You'll soon get the hang of it," shouts Jonathan, my sailing instructor. I smile down ruefully as I cling to the mast for dear life, determined to avoid a Woman Overboard scenario. My white knuckles and clenched teeth suggest I'm in the middle of the open ocean facing the Perfect Storm. Truth is, I'm on a moored vessel – Spirit – safely secured in her dock by the Sydney Fish Market. The only thing moving is a flock of seagulls as they circle the diners enjoying their open-air fish 'n' chips.
This is my fifth lesson. Not that you'd guess from the way I step gingerly around the deck, looking completely out of place in my oversized, bright yellow wet-weather gear. Signing up for a Competent Crew course seemed like a good idea in the summer. Back then the sun was beaming down and Sydney Harbour beckoned like a glistening, nautical playground. But it's now almost winter and there's not a speck of blue sky to be seen. Rain is forecast and, to add insult to injury, there'll be no wind today– not ideal when you're trying to learn to sail.
Yet despite the dreary day – and red raw hands from pulling on various ropes for two hours – I'm thoroughly enjoying myself. Over the past few weeks I've learnt all about plotting my course on maps (sorry, charts), reading the weather and tying knots. It's been a long time since I was a Girl Guide, but I can now tie a reef and double hitch with the best of them. We've also learnt basic craft safety rules and how to prepare your boat for sailing. But today we're due to head out into the Harbour with sails raised – except there's no wind.
"Don't worry," says Jonathan, "there's still plenty we can learn." And I guess he'd know. Over the weeks I've realised that I, a complete nautical novice, have chosen an instructor who has sailed around the world twice (once solo) and completed four Sydney to Hobart races, including one of the toughest on record in 1998, when six sailors tragically lost their lives. I can only begin to imagine the pain it causes him to witness my bungled attempts at reefing the sail and securing the topping lift.
But to his credit he never once makes mefeel like an idiot as he patiently explains – again – how to raise the sail, which rope goes where and how to avoid getting knocked out by the boom.
"Why's it called that?" I naively ask. "Because that's the noise it makes when it hits you on the head," he tells me cheerfully.
After my three classmates and I (there's never more than four in a class) have successfully raised the sail a few times without knocking ourselves out, it's time to practise manoeuvring under motor. Spirit sits snugly between a huge boat to the right and the Deerubbun – an Aboriginal-owned vessel that offers cultural cruises of Sydney Harbour – to the left. She's dwarfed by comparison and the sturdy vessels either side look like they could do us some serious damage should we misjudge our turn in the tight space.
After a quick run-through of the starting procedure (water tap open, neutral gear, battery check, turn key, push start button, check water flow) it's my turn to stand at the wheel and gently ease Spirit out of her spot. Under Jonathan's expert guidance I tease the throttle and work my way through the gears. The large boat on the right looms worryingly close but, as if by magic, my slight turn of the wheel sees us reverse out with millimetres to spare and we're soon gliding across Darling Harbour.
Motoring towards Pyrmont Bridge, the crease of concentration on my forehead finally lifts and I begin to understand the thrill of cruising along on open water, free from the constraints of concrete and tarmac. Sure, my illusions of sailing merrily past the Opera House with a glass of chardonnay in one hand and a camera in the other have been firmly extinguished by the realities of sailing. But I can't wait for my next lesson and the chance to feel the wind in my hair and the sea spray on my face as the sail billows overhead – weather permitting.
And what better scenery to accompany the experience, sun or no sun, than Sydney's glittering Harbour?  
*For more info about learning to sail on Sydney Harbour, call 0438 724 546 or visit www.sailingwithattitude.com.au. No prior experience is needed for the Competent Crew course, which is internationally recognised and includes an exam. Andonce you've passed, you'll be able tocruise yourself around Australian coastlines to your heart's content. We're also giving one lucky reader the chance to win an Introduction to Sailing package valued at $450 on our competition page.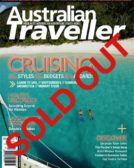 Enjoy this article?
You can find it in Issue 15 along with
loads of other great stories and tips.