AT's Sarah Tierney visits Greekalicious to learn how to cook like a real Greek and experiences true Greek hospitality.
The word gastronomy signifies the relationship between the senses and food, and derives from the ancient Greek language, and you can tell that is the attitude of Maria Benardis when she animatedly talks about food. In Greece, she says, there aren't any measurements. They use their five senses, sight, touch, smell and, most importantly, taste to make sure their food is delicious. Her words ensnare my senses and I feel hungry just listening to her.
I'm at Greekalicious in Bondi Junction with eleven other people all eager to learn the finer details of Greek cooking. Maria, our teacher, is a former accountant turned cook who once shared a kitchen with Neil Perry. We're all here for a three hour class that includes a meal after the food is cooked. This particular class is all about comfort food, which is perfect for the coming winter. Maria welcomes each and every one of us like an old friend, making us feel at home and comfortable as we settle in for the class. There's a mix of people for the class, from an old lady to 20-something year old girls and everyone in between.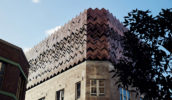 It's undeniable to say Maria knows a lot about food. She has an amazing amount of knowledge about everything Greek. She knows exactly what the ancient Greeks used to eat and she can list local produce from not only her home island of Psara, but almost every other region in Greece. She understands each dish depends on the quality of the ingredients and so every ingredient sourced for Greekalicious is of high quality, organic and fresh. The olive oil and vinegars, for example, are handmade by monks from Crete who have been making olive oil and vinegars since 1632.
Maria starts with lahanodolmades, mince meat and herbs wrapped in cabbage and an egg lemon sauce known as avgolemono sauce. She gets volunteers to help cook each dish, and the best thing is, if you don't want to volunteer and would rather watch, you can. As she runs through the recipe Maria tells us the history of the dish and of Greek cooking in general. We learn about the celebration of food and the Greek diet. This is followed by spinach pie, or spankopita. She tells us how the humble Aussie meat pie wouldn't exist if it weren't for the ancient Greeks because they were actually invented by the Greeks, and over 1000 types of pies originated in Greece. The spankopita is a mixture of spinach, feta and egg wrapped in filo pastry.
Next is dessert, the honeyed kataifi pastry nests. The nut filling for these is the same filling for baklava and the pastry is shredded filo, and is Maria's own version of the traditional dish. The salad is made last and is a very simple mixture of wild rocket, tomatoes, feta, pine nuts with olive oil and balsamic vinegar.
By now everything's ready and it's time to feast, which is perfect timing because my empty stomach was starting to rumble. We all crowd around the table and Phillip, Maria's help for the day, pours the wine as Greek music plays in the background. Before we start, we bless the food and toast to good health. We start with the salad which is fresh and crunchy. The feta is delectably creamy – by far the best I've tasted and the olive oil is bold and delicious. Maria then serves the pie, with its crispy filo and heartwarming filling, I'll definitely be making this one at home.
The lahanodolmades then make their way to the table. We all take some, and Maria, in true Greek hospitality makes sure everyone's plate is always filled. The lahanodolmades are a true comfort food, warm and filling and the lemony avgolemono sauce cuts through it brilliantly. Lastly are the honeyed kataifi pastry nests which are the clear crowd favourite. Served with warm thyme infused honey and yoghurt, this are one of the best desserts I've tasted and, even though I am stuffed full of food, I could easily eat another two at least.
When it's time to leave, Maria kisses us each on the cheek, and we get a bag and recipes of the dishes we cooked today. We don't leave with just those, however. We all leave with a new love of cooking and a little bit of the same passion Maria has for sharing and cooking Greek food, which is Maria's aim with Greekalicious. She wants everyone to leave knowing true Greek hospitality and to be able to share her recipes with family and friends so eventually, everyone will be able to cook a Greek dish.
So you can start cooking Greek food right away, we're lucky to get a secret recipe for Baklava from a grandma (or Yiayia in Greek) who is one of Paniyiri's favourites. Paniyiri is Queensland's largest cultural festival and is held between the 23rd to 24th of May. Stuffed to the brim with food stalls selling traditional Greek food from regions such as the Aegean, Cyprus, Crete and more, Paniyiri will fulfil all your Greek food desires.
Baklava Recipe
INGREDIENTS:
Baklava
2 packets Filo pastry (total 750grams
1 cup walnuts, chopped
1 cup almonds, chopped
½ cup sugar
1 Tsp cinnamon
¼ Tsp clove
Syrup
4 cups sugar
2 ½ cups water
½ cup honey
1 Tsp of lemon juice
Pinch of lemon rind
1 cinnamon stick
METHOD
Syrup: Mix all ingredients together and boil the syrup for ten minutes.
Baklava: Line baking dish (approx. 30 x 28 x 5cm) with one packet of Filo pastry, brushing every second sheet with melted butter. Mix the nuts, sugar and spices together in a bowl and spread evenly over the Filo. Cover the lot with the second packet of Filo sheets which have been buttered as above. Pour remaining butter over it and cut the baklava into diamond shapes. Sprinkle with water and bake in moderate over for 80-90 minutes. If pastry becomes golden brown too early, cover with foil. Allow to cool and pour the hot syrup over it. Serve cold.
For more information on Greekalicious visit www.greekalicious.nyc or call 9331 0734. Entry to Paniyiri is $7 for adults, $2 for seniors and free for kids under 13. For more info visit www.paniyiri.com or call 07 3844 1166.