Australian Traveller's Sol Faul reviews the High Tea experience at Bayside Lounge in Sydney's Darling Harbour.
"For the working and farming communities, afternoon tea became high tea. As the main meal of the day, high tea was a cross between the delicate afternoon meal enjoyed in the ladies' drawing rooms and the dinner enjoyed in houses of the gentry at seven or eight in the evening. With the meats, bread and cakes served at high tea, hot tea was taken." – UK Tea Council's definition of High Tea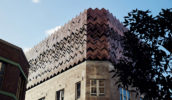 Darling Harbour in Sydney is a long way from the drawing rooms of Great Britain, but the Bayside Lounge is a great place to while away a leisurely afternoon and read the papers.
Like most Sydneysiders, I steer well clear of Darling Harbour whenever I can. So the Lounge's affordable $22 high tea offer didn't raise my expectations greatly. But sometimes you can stumble upon a gem where you least expect it, even in the middle of an admittedly slightly tacky entertainment district. And so I find myself on a sunny Saturday afternoon wandering the busy shores of Sydney's Darling Harbour.
As expected, the place is teeming with people. There's always one festival or another to attract tourists – and this weekend it's the Buddha's Birthday Party.
The stands don't offer any exciting wares and the entertainment consists of very '80s dance routines and synthesiser music. But the atmosphere is uplifting, with playing children everywhere, colourful decorations, smoking incense sticks and people from all over the world. The Buddhist decorations, palm trees, water features and CDB skyscrapers in the background create a wonderfully eclectic mix. Everyone here is out to enjoy the day and – a rarity this close to the CBD – people are actually smiling and having fun.
The Bayside Lounge, tucked between shopping mall and convention centre, doesn't look appealing at first glance, but the light-flooded inside is stylishly decorated and the outside tables are a great place to catch some rays, if you get there before 2pm. It's in the perfect spot for some people watching, too, and popular with ladies who lunch (or drink hot chocolate).
And, with one of my female friends in tow, we're in the right place for an afternoon catch-up. The staff are friendly and attentive, and the champagne arrives promptly. We were expecting actual tea, but the champagne is equally warming and fuels our animated chatter.
Next is a three-tiered stand. We start from the bottom: open prawn sandwiches with crustaceans so big they nearly fall of their bed of lettuce leaves and smoked salmon rillettes on refreshing cucumber. The crab and celery finger sandwich from the middle plate is so good I don't even notice it has celery in it – which is just as well, as I would have behaved in a very unlady-like manner had I realised. And the steaming hot veal and mushroom vol au vent is as tasty as a mini ragout.
It's finger food, but it tastes fresh and the portions are slightly larger and surprisingly filling.
Before we attack the top section we're offered some coffee – but still no tea! Then again, the coffee wonderfully complements the lenôtre opéra slice and the sugar- caffeine combination quickly helps us over food-induced sleepiness and a lag in the conversation. And the berry macchiato (mix) with crème fraîche on top tastes great with another mouthful of champagne.
Sure, it's not quite the way the gentry take their high tea in London, but in Darling Harbour it works. My companion says she'd give the food a four out of five and will bring her partner here – even gentlemen can benefit from some conversation over high tea sometime.
A true culinary highlight from the top of the food stand convinces me that I too will become a regular: the sweet brandy-soaked crust of the heavenly melting vanilla mascarpone leaves me yearning for more.
Pot of tea or not, this place had me bouncing on a high on my way home into the sunset.
DETAILS // High Tea at Bayside Lounge
Cost // $22 per person, available Wed-Sat 2pm-5pm.
Where // Bayside Lounge, Sydney Convention and Exhibition Centre, Darling Drive, Darling Harbour.
Phone // (02) 9282 5916. Menu items subject to change due to seasonal availability. Prices subject to change without notice.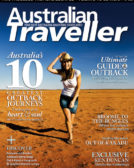 Enjoy this article?
You can find it in Issue 21 along with
loads of other great stories and tips.