Hey Big Daddy-O, cut the gas and dig what I'm saying to all you hip and groovy cats! Word from the bird is that the hippest day out is to be had at Rose Seidler House in Sydney's far north for the annual Fifties Fair. Words by Dorian Mode.
Welcome to Sydney's annual Fifties Fair! Where petrol is only 10c a gallon, women are shunned from public bars, and a stroll through sunny Maralinga sees you illuminated by your own shadow. Now in its 15th year, the annual Fifties Fair is held in the grounds of that modernist architectural delight, Rose Seidler House, in the far northern Sydney suburb of Wahroonga.
Internationally renowned architect Harry Seidler shocked Sydney out of its post-war austerity when he built the futuristic house in 1950 for his mother, Rose. And with its authentic '50s appliances and décor, the house alone is worth the trip – although, having said that, it's perhaps best absorbed on any day other than the Fifties Fair, as rooms are sardined with bobbing quiffs and stovepipe trousers.
My wife and I are self-confessed '50s tragics. We'd heard about the fair for years but sadly it always falls on the weekend of our son's birthday. However, fortuitously this year, we didn't give a rat's. After cake and presents we dragged him to Wahroonga in our '50s clobber, where he sulked all day in the manner of James Dean in Giant.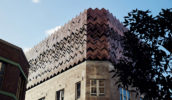 After picking our way through collectables at '50s stalls that sold everything from vintage clothing to Bakelite furniture, homewares, jewellery, records, kitchenware and other post-war bric-a-brac, we found a fabulous bowling shirt for my son, some cool vintage ties for myself and a crazy 1950s apron for my wife in order to remind her of her place in our home. (Well, that's what I would've written in 1955. These days I value my life.)
What an atmosphere. Janet Seidel's trio playing Doris Day classics, people jitterbugging with the fabulous Swing Time Dancers – there was even a Tahitian Dance Company who hulad (a '50s verb) all day. The Hawaiian thing is very 1950s for some reason. They even had Miss Pixie's beauty parlour – crammed to the chequered linoleum – for that ultimate Grease is the Word is the Motion hairdo.
I found a fabulous bowling shirt for my son, some cool vintage ties for myself and a crazy 1950s apron for my wife in order to remind her of her place in our home.
Everyone has a swell time and gets right into the spirit of the '50s, dressed in their finest vintage threads and vying for the revered fashion awards. The entire day is a carnival of quiffs, loud ties, floral-print dresses, stovepipe jeans, leather motorcycle jackets, bad Hawaiian shirts, fabulous straw hats and enough Brylcreem to power the Pacific island of Naroo.
Even the kids get into the '50s (although not mine, glued to his @#$%ing iPod and scowling) with hula hoop and dance workshops, street theatre and craft activities including making Hawaiian lays and creating their own surfboard designs.
Alas, the downside of the Fifties Fair is it's own success. You can't move for stepping on a brothel-creeper shoe. So do get there early and don't bring the family car unless it's a 1955 Cadillac as parking is strictly 21st Century.
Details // Where // Rose Seidler House, 71 Clissold Rd, Wahroonga NSW. When // Last Sunday in August, 10am–5pm. Tip // For a more relaxing and day, consider the free shuttle bus from Turramurra station. Contacts // (02) 8239 2211, www.hht.net.au.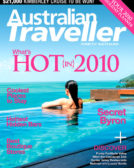 Enjoy this article?
You can find it in Issue 30 along with
loads of other great stories and tips.