It's still a great country for travellers when $35 a night can get you a bed a block away from the PM in Sydney. By Peggy Gordon
I fear the tracksuit, even though I haven't seen it. I wake up early each morning, tie the laces of my jogging shoes tentatively, pace nervously onto the street, turn right, and there, a Matt Shirvington shuffle from my budget front door, looms Kirribilli House, the Sydney home of Prime Minister John Howard.
Back in Sydney for the first time in a year, I've checked in to Glenferrie Lodge, a 70-room tourist hotel in Carabella Street, Kirribilli. You know you've scored a bargain when you're paying $50 a night for a private room with the Prime Minister as your neighbour. The gates of historic Kirribilli House, the Sydney address of Prime Ministers since 1957, are less than 100 metres from the giant plaster Indian which serves as the curious landmark entrance to the Glenferrie. Admiralty House, the Governor-General's digs, is alongside the PM's place.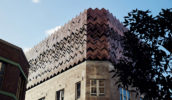 I used to live around Kirribilli, so I know just how omnipresent our John can be first thing in the morning. I, like many others, vividly recall the time of the Sydney Olympics, when it seemed you couldn't leave your North Shore home at dawn without bumping into a grinning, waving, exercising PM, resplendently nationalistic in the brightest of tracksuited greens and golds. Mr Howard appears in those reminiscences almost luminescent: the glowing, cherubic cheeks; the glistening perspiration on the brow; the rapid rustle of his waving hand; the creases of his tracksuit comely around his politician's paunch. Five years later, I've got up and gone and come back a camper, while he's kept the keys to Kirribilli House. With only the ALP and Peter Costello threatening, he may never give them back.
Kirribilli is nestled under the north side of the Sydney Harbour Bridge, staring across to the Sydney Opera House, the Royal Botanic Garden and the city skyline. With a good selection of cool cafes, chic eateries and the historic North Sydney Olympic Pool, there are few better choices for a short Sydney stay. Wake up in Kirribilli and it's hard to feel let down about stopping off in Sydney.
Glenferrie opened in 1998 and has been doing a roaring trade since. With nightly rates for rooms ranging from $35 for four-bedded dorms, private rooms at $55-$125 and a family room (sleeping four) at $145, the price for your own slice of the good life is very agreeable. Your best access to public transport is Milsons Point train station, less than ten minutes away; equidistant are two ferry stops if you'd prefer to reach the city by water. Cars can be parked out the front for free, although you've got to compete with locals for all-day spaces on the street.
While pitching at the budget traveller, Glenferrie usually attracts guests an age and attitude up from backpackers. Not that the shoulder-strappers aren't welcome; it just seems the Glenferrie menagerie is a bit more variable in age, economic status, commitment to hair braids and sexual voraciousness than your average Byron Bay dorm dosser. The weekly room rates are nicely reduced, so many visitors are there for a longer spell than at other budget-priced addresses.
Glenferrie is not Shangri-la by the harbour shore. It could lift its game in some areas. Some of the rooms are frightfully cramped; others are a bit too noisy for comfort. The best rooms are all on the top of its four floors – request them if you can. The breakfast provided is fair but frugal, with the monotonous menu reeking of the cheapest of everything. But if it's your Sydney wish to blow your money at Bondi bars and Oxford Street shops rather than on room rates, Glenferrie is as happy and homely a setting as you'll find. Just ask the PM if he's bedding down in Sydney town. Kirribilli is his kind of place.
Glenferrie Lodge
Carabella Street, Kirribilli
Website: www.glenferrielodge.com
Phone: (02) 9955 1685
Email: mail@glenferrielodge.com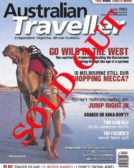 Enjoy this article?
You can find it in Issue 2 along with
loads of other great stories and tips.