We recently told readers about the new Fort Denison cheese and wine appreciation courses in Sydney Harbour. And now AT has had the chance to head out to the island to check it out for themselves. After an afternoon of fresh cheese, chilled vino and the guidance of a well-versed cheesemonger, the verdict can only be good. Words and images by Lisa Perkovic 
The day is off to a cracking start down at Circular Quay. People are milling around the buskers and street performers, watching the regular acrobats and musicians. There's nothing better than a stroll around the Quay before lunch and a lazy afternoon. Actually, a jaunt on Sydney Harbour is even better. You've got just enough time to breathe in a few gulps of sea breeze aboard a Matilda Cruises ferry out to Fort Denison. It feels as though we've only just got the engine going (which is true; the island is only a few hundred metres away from the Opera House) before it's time to dock.
The Fort is housed on a tiny island once used to house gunpowder and the particularly naughty criminals from our convict past. Now a tourist destination, its quaint, sandstone rooms are available for hire and the small on-site cafe offers tours of the island.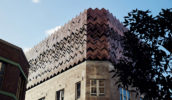 Unfortunately, glasses of sparkling white waiting at the end of the jetty are for another party – but not to worry, there's a whole table full of goodies waiting just inside the Tea Room.
Our host, Claudia, perhaps the chirpiest cheese connoisseur out there, has gone to a great deal of effort. The sandstone Tea Room has been transformed from sparse officers' quarters to what could be a setting we'd expect to find at afternoon tea out on a terrace in the Hunter Valley. Only better: large bay windows look out onto the harbour's sparkling water, the light bouncing back to dazzle your eyes. Turning away from the view isn't difficult, though; the room is elegantly laid out with fresh gum tree blossoms and an immaculate table setting.
It's also time to turn to the reason we're all here: the good stuff. It lies artfully displayed on big, round tasting plates. Bright wedges of aged cheddar, not-for-the-faint-hearted blue vein blocks and oozing hunks of fresh Camembert draw us like bees to a hive. But Claudia is tough. There'll be no tasting before teaching. We're staved off devouring each and every little cheesy slice with warm appetisers. Fig and hazelnut tartlets and some sparkling wine are passed around while the class begins.
To start there's a general introduction into the industry's surprisingly gruesome history. Vegetarians beware, it turns out cheese was first produced by some resourceful Europeans carrying milk in sheep stomachs. The combination of heat and movement coagulated the milk into curds and whey and the rest is history.
The two-hour course is a slow and salivating journey around our plate and planet. We frolic through pastures with goats in South Australia, roll down mountains in Italy's traditional hard cheese history and squelch by gooey cultures grown for that whiffy mouldy variety.
Although countries like Holland, Italy and France are renowned for their long and delicious history in cheese making, this class is all about Australian produce. McIntosh and Bowman have trawled the country, even airfreighting in some produce, for the best of Australia's boutique cheeses. They focus on farmhouse cheese and small-scale farm operations committed to producing top-quality produce.
It turns out this is no small feat. Australia's cheese industry has long been suffering. One Dutch participant is quite passionate about this sensitive topic. Apparently, she's been here three years and just hasn't found any cheeses. Where are the good ones? Not here. Hardline legislation brought in ten years ago has prevented imports and local production of unpasturised cheese. Only recently has the government eased up, allowing a select few to start producing their own raw milk products.
Today we're tasting the fruits of these efforts. Claudia has handpicked each of the 16 cheeses on the plates, adding three recent discoveries from the day before that she couldn't bare not to share with us.
This cheese eater is unbelievably grateful. The standout pieces on the plate have to be the subtle raw milk goats cheeses. Not your pungent sheepy varieties of the south of France, these ash and herb-rolled samples are perfect on the fresh sourdough bread provided. Claudia assures us there's nothing better than some sheep curd on your toast in the morning. Needless to say, some of the group follow French practice and were all for ending the day with a good glass of wine and a cheese platter.
By halfway round the plate we've hit the vintage cheddar. We're also halfway through the glasses of Australian wine on the tables. In the more comfortable ground of cheddar, having survived the sheep and in the break before the blue-vein, the table conversation takes off. A heated discussion about wax rind – to eat or not to eat – is skilfully redirected by our host towards the subject of mould.
Apparently one cannot appreciate cheese without smelling and touching before tasting. There were no qualms about caressing the soft and slightly sticky Camembert but most weren't too keen on getting a feel for bright blue mould.
The great thing about this class is that it's all about learning. Whether its peer pressure, slight inebriation or Claudia's gentle coaxing, you'll stretch your culinary standards. That includes each of three types of wine with all 16 cheeses.
After the class, there's some time to regain your sea legs with a tour of Fort Denison. For $10, guide John takes us into the bowls of the only Martello Tower built in Australia. Made from 8000 tonnes of local sandstone, inside the fort it's cool and eerily quiet. We file into gunpowder storage rooms, the floor marked by heavy rims of barrels, to peer up at graffiti from 1856. Scrawled in thick black paint, the markings are a little alien and a lot more fascinating than the normal "we woz here" you'll find around the harbour.
Winding up small, worn stairs, we arrive in the top gun room. Three cannon are positioned at the windows, guarding the harbour from foreign attack.
Although they're never fired, don't be surprised if you hear visitors bursting out in song. After some persuasion from guide John, traveller Tracey's rendition of "Amazing Grace" had the sentimental in the group holding back tears. The room has amazing acoustics and has seen many similarly impromptu performances.
Up on the walls of the fort there are great 360-degree views of the harbour. On this bright spring day it's difficult to imagine the site serving as an execution point for convicts. Today marquees and music have replaced nooses and gunpowder and you're more likely to find cheese and wine than bread and water.
In our opinion, McIntosh and Bowman fare could never be punishing. They're combining a little slice of history with a whole lot of really good Australian produce. It's the tastiest lesson we've had – and I'd challenge you to find a better classroom in all of Australia.
Courses cost $160, which includes ferry to and from the island and National Park fees. The NPWS guided tour can be taken for an additional $10. Check out www.mcintoshandbowman.com and www.nationalparks.nsw.gov.au for more info.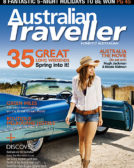 Enjoy this article?
You can find it in Issue 23 along with
loads of other great stories and tips.