Elisabeth Knowles heads to where all the inner-city foodies hang out to reveal a hidden gem, Eathouse Diner in Redfern. Many, many years ago, back before mobile phones and the upwardly mobile, the inner-city Sydney suburb of Redfern was unlikely to be written up in a magazine as a great new dining destination. Predominantly populated by starving artists, the elderly, unemployed and underprivileged, Redfern was always the "rough" around Sydney's edges. But now, as more and more flash new apartment buildings with roof-top pools and CaesarStone kitchens pop up alongside the council flats, and as rental rates in the suburb soar past $400 a week for a studio apartment the size of a single garage, it seems Redfern is now, at last, a Place to Be. DIY renovators and boutique property developers have transformed the suburb's face, but it's young, independent small-business operators who are bringing out the best in Redfern's personality.
Case in point: Eathouse Diner. Situated just across the road from the once-scary-after-dark Redfern Park, this old-style shopfront was taken over by three food-loving friends in their early 30s who formed a co-operative to create their ultimate restaurant. It's not silver-service and it's not hatted by a Food Guide, but to me it offers one of the best dining experiences in Sydney for three simple reasons: it's relaxed, it's fun and the food is great.
Eathouse doesn't take bookings so one possible reason for the diners here smiling and laughing so much may be that they had to wait a while in a nearby pub for a table to become available. One place to spend your waiting time is the Woolpack Hotel and Lounge at 229 Chalmers St, a friendly pub with a nice atmosphere and outdoor tables that will be perfect for enjoying the balmy nights of the coming summer.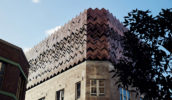 Alternatively, you could head round the corner to Dry Land Bar and Diner, at 92 Redfern St. An unassuming shopfront with a sliding glass door, Dry Land is a tiny space with intimate wooden tables and a row of red-leather-topped stools fronting a small bar. The barmen play full-length vinyl records and serve gin and tonics, and I hear the food is pretty good too, as chef Marc Cartwright earned his chops at Longrain and Quay. But despite a rumbling stomach it's difficult to steer me away from Eathouse Diner.
Last month, I ate there three times in two weeks. The first time I went, I ordered corned Wagyu with celeriac and rainbow chard ($25) in a wave of nostalgia for my sadly-missed British grandmother, who used to serve corned beef with mashed potato on a Sunday. It was a wonderful reminder of how great salt-cured beef can taste, and it made me remember how much I loved my Nan.
As an aside: you can also experience fantastic corned beef in a Reuben sandwich, made on rye bread with sauerkraut and Swiss cheese, at Cook & Archies – a fantastic daytime café located at 4 Buckingham St in Surry Hills, just round the corner from the Devonshire Street exit at Central Station.The other two times I dragged friends along to Eathouse, I tried the fried Barossa chook with creamed corn and slaw ($27), which was a Cajun-style offering a little on the dry side but yummy nonetheless, and my favourite main yet – braised lamb shoulder with fig, pomegranate and cauliflower puree ($28). The lamb was so beautifully slow-cooked it fell apart at the slightest provocation, and the meat was so sticky with fruit syrup it was almost black. The flesh was tender and sweet, and the mild cauliflower puree tempered the richness of the other elements on the plate. I'm tempted to go back to try the main of truffled macaroni and cheese with taleggio ($20), but swimsuit season is nigh.
The mains are huge, so be warned if you're the type who wants an entrée and a dessert. If you're hankering for a pre-main something, I recommend the oyster shot with chilli salsa ($3.50 or $10 with added tequila) so you can keep room for dessert. The banana split is a traditional over-the-top shemozzle involving cream, ice cream and chocolate sauce complete with a little pink paper umbrella. Other desserts are given a hearty Eathouse twist – the ice-cream sundae is flavoured with spiced tea; the bourbon and pecan tart comes with a cream-topped shot of American whiskey.
Which brings me to the alcohol. Campari-based cocktails such as Negroni seem to be making a bit of a comeback at the moment and Eathouse is right on trend. They also do milkshake-sized mojitos, which may also contribute to the convivial atmosphere. If you want to get an instant insight into the mood at Eathouse, go to their website and un-mute your speakers – that poppy, sped-up South American soundtrack reflects the carnival spirit evident in every part of the dining experience here: from the vibrantly coloured décor to genuinely happy wait staff who clearly love their industry and are only too happy to share everything they know about where the produce came from and the methods by which it was cooked.
The Details

Where

Eathouse Diner, 306 Chalmers St, Redfern NSW.
Notes Open Monday-Saturday from 3pm (for light snacks and coffee). Dinner service starts at 6pm. Closed public holidays. They don't take bookings, but here's a tip: if you show up as close to 6pm as possible you're likely to get a table straight away – especially on a week night. Sydneysiders eat late.
Contact (02) 8084 9479; eathousediner.com.au
THE AT Verdict

Elisabeth Knowles, who paid her own way and visited anonymously, says: "Eat House is one of the most comfortable and fun dining experiences in Sydney. The food is superb, the vibe is energetic and the staff are really friendly. Great food without the snooty service that accompanies other, less-great, places around Sydney. It'll make you give Redfern a rethink."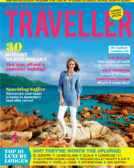 Enjoy this article?
You can find it in Issue 41 along with
loads of other great stories and tips.