These days you don't need to trek to the airport to take off and explore the land from above. At Darling Harbour's Flight Experience, you can pilot your very own Boeing 737-800 – and hopefully even land it safely, as AT's Lisa Perkovic discovered.
And we have lift-off! Sort of . . .
AT recently hopped in the full-size replica cockpit on a simulated trip into Hong Kong's old airport Kai Tak. And there are hundreds of destinations to choose from in the very realistic Flight Experience flight-sim now open and receiving budding pilots inDarlingHarbour. You can fly through snow-capped New Zealand peaks in Queenstown or even soar over the Sydney Harbour Bridge if you like.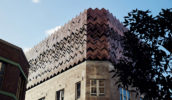 Used by pilots for training, the cockpit is decked out with some seriously complicated controls. The steering is a bit hard to handle but your trusty co-pilot won't let you veer too far off course.
For people with absolutely no experience in the driver's (or flier's) seat, it's as close to the real thing as you'll ever get. Avionic computer screens track your flight path, altitude and elevation angle. The 180-degree screens are so realistic that an unexpected nosedive brings the ground painfully close.
The AT flight crew managed to bank into Kai Tak with only a few blasted warning signals. Still sweating from the close call withLionRockMountain, we recommend Flight Experience for anyone itching to climb out of the passenger seat and head to the pointy end.
Part of the reason AT was down at DarlingHarbourchecking out the flight sim was for the launch of the new Frequent Flyer Health Boost, a multivitamin designed to guard your immune system. They're available in pharmacies, Priceline and Airport Newslink stores — and Flight Experience vouchers for 30, 60 and 90 minute flights are available online at www.flightexperience.com.au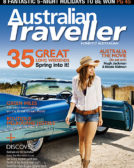 Enjoy this article?
You can find it in Issue 23 along with
loads of other great stories and tips.