AT welcomes back the traditional British tea sipping ceremony of the 1700s and rates Sydney's finest High Teas with surprising results.
The lofty trend of drinking Darjeeling tea served in shimmering silver teapots is the latest drawcard for those who favour the finer side of life. Sydneysiders are familiarising themselves with what they believe is a rather regal treat.
Several versions of teas are on offer around the city with emphasis on presentation and fine crockery. Antique three-tier stands are laced with pastries, chocolate dipped strawberries, lemon tarts and freshly baked scones. Individual hosts have transformed the meal-like high tea into what can only be referred to as a delectable afternoon tea.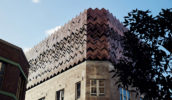 Observe – The Observatory Hotel
If you fancy reliving the correct etiquette, silver service and elegance at its best, then the Globe bar at the Observatory Hotel is the tea for you. Pink Moet & Chandon is an ideal start to indulgent teas; the chilled champers is a perfect compliment to the pungent tastes of the quiche Lorraine and the chic service offered at Globe. Make this one of the first stops on your high tea itinerary.
www.observatoryhotel.com
Playing House – Sydney Opera House
Guillaume at the Bennelong, Sydney Opera House – may deserve its reputation as one of the city's best restaurants, but their high tea doesn't follow suit. For $250 dollars a couple not even the magnificent views justify this ridiculous amount of cash. The press release I received on this high tea was the most impressive thing about it. AT's not rushing back although the bottomless sparkling wine was a big bonus.
www.guillaumeatbennelong.com.au
Make Room – The Victoria Room
This is nothing other than stunning. The setting is calming, the lighting dim and on a relaxed day I can think of few things more appealing than immersing myself in the light chatter and sounds of Nat King Cole buzzing around this popular weekend teahouse. Freshness seems to be of high importance here –  we thank the chef.
www.thevictoriaroom.com
Circular Motions – The Stamford, Circular Quay
Not sure about you but my thing at high teas are the scones. I love them. On a visit to the Stamford I couldn't even break my scone in half. Utter disappointment. Watch out for the Strawberry high tea ploy, I didn't see too many 'promised' dipped strawberries on my three-tier-stand. Forget the Stamford in 30-degree temperatures. Save this one for winter.
Gunning for attention – Gunners' Barracks tearoom
Mosman is home to the Gunners' Barracks, where the wealthier Sydneysiders strain their tea. Join them, the views are amazing – and the Darjeeling tea rather refreshing. Don't make a booking if lousy weather's been forecast, half the appeal is sitting outside.
www.thevictoriaroom.com
Softly Softly – Sofitel Wentworth
The chef puts presentation above all else – you're almost too scared to nibble from anything laid before you. I got the feeling as though the tea was simply made for me. The trendy Parisian food experience and label Le Notre is the essence of this afternoon tea. You've got to go.
www.sofitelsydney.com.au
Bring your manners – The tearoom, QVB
You'll want to behave here so sit straight, speak in a hush and enjoy what feels like a tea party from the 1700s. This is the ultimate place for a girls gathering, you don't see too many male patrons walk through these doors. Boys you've got no idea what you're missing out on.
www.thetearoom.com.au
Tea to the Max – Max Brenner
Chocolate, brownies, more chocolate and juicy strawberries is the Max Brenner version of high tea. A relaxed atmosphere, kid friendly and totally chocolicious. See you there next Saturday morning.
www.maxbrenner.com.au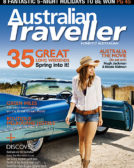 Enjoy this article?
You can find it in Issue 23 along with
loads of other great stories and tips.