Amanda Woodard boldly goes where no parent has gone before. Well, not deliberately, anyway
I remember that overcast morning in London years ago, sitting down in a café with my husband-to-be and having a serious discussion about the ground rules of our relationship if we were to have children.
While we might not have seen eye to eye over baby names, we agreed that travelling was non-negotiable: our spirit of adventure would not be extinguished with little ones in tow.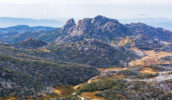 Our trips, either as singles or together, had included remotest Borneo, glacier hiking in Norway, wreck-diving in the Philippines and driving through Ghana and the Ivory Coast. We ruled out war-zones or areas prone to infectious diseases, but intrepid was to be our watch-word.
It was with this in mind that, after the birth of our first child, we flew to the other side of the world for the duration of my maternity leave. For the first few months of his life, my son Theo was more familiar with the Australian bush than the London underground.
Looking back, what I realise now is how much easier it is to travel when children are very young, particularly if you continue breast-feeding for as long as possible – it's the most effective pacifier. (Also, toddlers rarely say things like: 'Are we nearly there yet?' as my children do now.)
When we moved to Australia permanently, we had grown into a family of four with the arrival of our daughter, Ava, then aged two. One of our most idyllic trips was a slow journey by train and road from Brisbane up to Cooktown.
Seeing crocodiles, cassowaries and giant ulysses butterflies in the wild, Theo snorkelling on the Great Barrier Reef at the tender age of four, and dodging the dingoes on Fraser Island… It was a moving feast of nature that more than compensated for the fact that we could no longer drop into a fancy restaurant on a whim.
Of course, there's nothing romantic about, say, having young kids throwing up in the confines of a campervan. After cleaning up after one such incident, I recall Ava then rolling off the top bunk and being caught only by the rapid reaction of my husband sticking out his feet. Phew!
Like most new immigrants, we were initially nervous about Australian wildlife – especially when little bare legs are running through bush.
So we taught them a healthy respect for snakes, spiders and the rest. At one farm in the Blue Mountains we would wake to find poisonous black and brown snakes sunning on the grass, enabling us to watch from a distance without too much worry.
Although I wasn't quite so composed when we were swimming in the river at the foot of the valley and one of these snakes fell from a branch and swam past us to the bank.
I'm convinced, however, that the wonderful Australian landscape has a toughening effect on a child's temperament. My aunt, a nurse at a Brisbane hospital, has confirmed this for me – she tells a wonderful story about being on duty when a child was rushed to the emergency department, covered in blood after a snake-bite. The doctors were confounded when they couldn't locate a wound – only to realise when they examined the killed reptile that it was the child that had bitten the snake.
In case you think I'm a sucker for punishment, let me be clear that it hasn't all been hiking, camping and wrestling with snakes. From time to time, we have booked a hotel with a kids' club or, as they've grown older, a holiday park where they can go feral and hang out with kids their own age. I get to read a book and realise I still have a brain, and my husband and I can establish that we still have a pretty good relationship, even one constrained by the responsibilities of parenthood.
And the explorer's urge has got the better of us occasionally. On Dunk Island, off the coast of northern Queensland, while the kids were in the club, we hired a small motorboat to head off to an isolated beach only accessible from the sea.
After a couple of hours of secluded bliss, we thought we'd head back only to realise the tide was receding fast, our boat was high and dry, and the mobile phone was dead. In the hot sun, we dragged the heavy boat over coral, cutting our feet and chasing the tide, fearing being stranded with no way out.
Somehow we got the boat afloat and returned older and wiser. After that, I developed a taste for spas and lying around by the pool for a long time.
I confess there have been other hair-raising moments which have included the children, when our commitment to adventure made us forget common-sense safety. Such as getting lost on Mount Kosciuszko without a compass… Or taking a narrow boat journey up-river to stay in a remote Fijian village, during which we didn't notice none of us had lifejackets until we hit serious rapids.
What I've observed over time though, is that the longer you travel with little ones, the more you chill out about it. A week can be fraught, a month is relaxing; six months and they're building dens and fending for themselves.
Like us, children are stimulated by a variety of environments, by trying unusual food and meeting new people. The truth is that we would miss them terribly if we had to holiday alone – seeing the world anew through a child's eyes is a priceless gift that is only fleetingly experienced.
The time is coming when I know they won't want to be seen with us, let alone go on holiday together… Then it will be back to that café to decide where my husband and I go next, alone.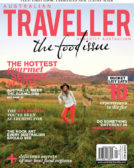 Enjoy this article?
You can find it in Issue 52 along with
loads of other great stories and tips.