Hiding down a steep, winding driveway quietly lined with gumtrees, is a bright, colourful secret: Snapper Lodge. This tiny one bedroom shack, nestled on the water's edge of beachy Sydney suburb Newport, is a perennial favourite amongst its regular – and a weatherboard with a difference.
"It didn't always look this way," admits Peter Lewis, who, along with his wife Lily, has owned the property for over 30 years. "When I first got in there, there was a shower in the middle of the room where the bed is; bamboo was growing everywhere… it was all really overgrown, but really cute."
Since then, the bamboo has remained – pruned back to a miniature forest, which lines the pathway down to the shore – but much like Peter himself, who has since founded Australian interiors empire Porter's Paints, the interiors are all grown up. Fat wooden floorboards, Miele kitchen appliances and a feature marble benchtop provide the perfect backdrop for a beach-chic aesthetic: vintage fishhooks, hand-painted miniature life rings and various watercolours dot the pastel walls; heavy, snug armchairs congregate around a rustic coffee table; a single, queen-sized bed looks out onto the lodge's private wharf. The bathroom, stocked with Aveda toiletries and plush white robes, is tiled in sea-green mosaics, the final piece in the colourful masterpiece: nautical chic meets breezy island hut.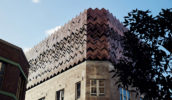 "We just tidied it up, painted it funky colours, and kept it pretty simple," says Peter modestly. "It's a pretty easy theme to go along with; there's not a lot of furniture, but it's good quality."
The same principles could be said about Snapper's layout. Slatted timber Venetians hang from ceiling to floor along the entire front wall, looking out to a shoreline a mere four metres in front of the house; while wraparound windows (so large that really, they could almost be considered doors) open up around the entire bedroom and living area, effectively removing the walls. For the kids, a separate shack – the 'guestroom', set further back up the hill – has a double bed, stacks of books and a separate TV and DVD player, so you can leave them to it without any worries. Of course, the kids get water views too.
Slightly further up the hill, set amongst the bamboo is a third shack; this one a triumph of corrugated iron, concrete and open air. Here, an impossibly sweet iron bathtub is the main feature, complete with an in-built window cut into the wooden wall to allow for view-gazing, of course.
For all its rustic charm, however, don't make the mistake of assuming that 'shack' means 'shabby'. Snapper Lodge comes with an industrial-sized oven, coffee machine and woodfired pizza oven – outdoors under the stars, no less. Also outdoors on the sandstone deck is a striped pink day bed and thatched cabana, inviting you to take an afternoon nap amongst the cushions; while the more adventurous can pick up a surfboard stacked against the bright green wall and head off to the warm sands of a nearby beach for a play in the waves. And when it's time for dinner there are two outdoor eating areas; a casual breakfast settee with seating for eight (in the form of striped beachside chairs, which are ever-so-charmingly mismatched) and a formal dining table next to the daybed, which transforms into a lounge that seats six. Add in another six French provincial chairs – totalling seating for 12 – and the cabana is transformed into evening beach-glam; the perfect setting for a dinner party.
Great for hosting new beachside friends – or just you, your loved ones and the evening summer air. And if it rains? Not to worry – the entire house shuts into a cosy hideaway, while the water patters on the corrugated iron roof above. A beach retreat indeed.
Enjoy this article?
You can find it in Issue 48 along with
loads of other great stories and tips.