AT's Alissa Jenkins checks out the new chimp enclosure at Taronga Zoo

I'm visiting a relative's new home in Mosman today. It's a multi-storey place surrounded by a massive yard, swaying palm trees and the most spectacular views of Sydney Harbour – no wonder it costed a bomb.
But as impressive as it is, I couldn't live there myself; (a) because there is no roof, (b) because it'd be illegal, and (c) because when I say 'relative', I actually mean a distantly-related primate – I'm at Taronga Zoo's new chimpanzee enclosure.
Separated from me by a moat and fencing, the zoo's 17 resident chimpanzees are released into their new $7 million home for the first time. It's a captivating display as one by one the chimps pour in to the enclosure and begin running around, hooting, screaming and calling to one another.
Adding to their excitement is breakfast, including watermelons and coconuts strewn across the area and hidden treats for extra entertainment.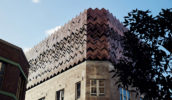 Once the initial thrill of food passes, the chimps focus on exploring their new state-of-the-art home, climbing a network of ropes to 12-metre-high towers, relaxing in a large hammock made of intertwined fire hoses and sitting on large strategically-positioned logs.
The refurbishment took two years to complete and not only expanded the climbing facilities, but the visitor side has been revamped with new interpretative signs and two impressive interaction features.
One is a tunnel system in which visitors can crawl in to for a closer look through a glass divider, but my favourite is a pretend game of tug-of-war where visitors can test their strength against the powerful primates – provided they choose to pick up their end of the rope.
However the most significant addition to the chimps is a new aviary-like separation paddock next to the main exhibit, in which chimps can see, smell and interact through, while the mesh barrier shields any aggressive behaviour that may arise between them.
Taronga Zoo spokesperson, Mark Williams explains that the new feature is critical for introducing new members into the group's tight social hierarchy.
"In the wild chimps will often try to drive off a new chimp by attacking them, which can have very damaging results. But in order to continue our breeding program we need to be able to introduce new animals with new bloodlines and by allowing the chimps to interact through the mesh curtain before they are fully introduced, it makes it safer for all concerned," says Mr Williams.
"Even when a chimp is away receiving veterinary treatment for a while, there can be tension when it returns to the group so by putting the chimp in the separation paddock first where it is protected; the rest of the group has time to adjust, diffusing any problems."
Watching the chimps settle in to the enclosure; playing, hugging and interacting in small groups, I'm not surprised these highly communicative animals are so sensitive to social changes.
It is easy to see the resemblance between humans and chimps, we're not so distant after all, and this is a great opportunity to see our former selves in action.
The Details
Sydney Taronga Zoo
Daily Admission // Adults $44 // Children (4-15 years) $22 // Children (under 4) Free // Concession $31.50 // Family: adult $37.40, child $18.70 (minimum 3 guests visiting)
Open daily 9am-5pm everyday including Christmas Day.
9am-4pm on December 31 (New Years Eve)
taronga.org.au/taronga-zoo