It has to be a world first – a 'Director of Chaos' appointed at a hotel.
While most establishments want orderly, managed and organised in their businesses, QT Sydney's move to appoint a Director of Chaos at their brand new flagship Sydney property – which hasn't even opened yet – is a statement of intent. One that says the QT Sydney is going to be edgy, different and dare I say it, avant garde.
It is unquestionably a huge risk, but if you're going to take a risk, you may as well go the whole hog. It's a dangerous decision – but it's precisely for this reason I think it will work.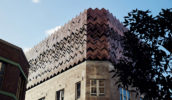 Most hoteliers approach risk by trying to minimise, then mitigate it. A great practice in business, of course, but when applied to hotel-land, the result is a melange of beige, highly corporatized accommodation options. In Sydney, most hotels are so indistinguishable from one another that they can't compete on anything but rate – and perhaps location, if they're close to the Quay.
But the QT executive team, lead by QTs owner AHL's MD David Sergeant, have made what I think is the right call by taking the extra risk of being obviously different – the most experimental, arty cutting edge hotel in Sydney. Hence the Director of Chaos (the DOC is certainly going to become their moniker).
Of course, it goes beyond of the DOC. The hotel itself has been built by gutting and renovating Sydney's much-loved landmark the Gowings building – a daring, statement move.
Their recruitment process doesn't follow protocol, either – by all reports, they had scores of five-star hotel wannabees turn up to interviews, only to be screened in a five minute chat. Those with enough personality and 'QT-ness' went on to the next step – a party with the other potentials, while the rest were turned away.  Second-round candidates were interviewed again after a few drinks – and it was then, only then, that they were potentially offered a job.
Then of course, there's the hotel itself, which lays claim to having original art work in every room. A massive 30 foot – that's right, 30 foot – LED screen has been installed in the lobby, playing 'visual art'. In a nod to one of the most loved traditions in the old Gowings building – the barber shop – a barber has been employed to give hot shaves in the Q-spa. There's even a 50-seat cinema inside (well half the hotel is above the old State Theatre, and the QT brand is owned by a company which also own a cinema chain).
And to make sure snobby Sydneysiders can't nit pick any particular department, the QT food offering is probably the most qualified kitchen team in the Sydney accommodation scene. Again the job titles are out of this world. Robert Marchetti, of Iceberg's and Giuseppe Arnaldo & Sons fame has been appointed creative food director and is joined by executive chef Paul Esson from Rockpool Bar & Grill in Melbourne. That's a whole lot of chefs hats in one kitchen.
It's all such a big call, I can't wait to see the results (and not the artist impression). This is the most exciting thing to happen in Sydney accommodation in more than 20 years.
Australian Traveller will be reviewing the QT SYDNEY anonymously and paying our own way in our October issue – subscribe now to make sure you get a copy of our no-holds-barred review.