Sex and the City
Dreading the prospect of Valentine's Day, Emma Tom gathered by her side a group of like-minded girlfriends, looked the city of Sydney squarely in the eye and hit the ground running. AT tried to keep up with its very own Bridget Jones. Here's what transpired . . .
MISSION STATEMENT: Declare war on Valentine's Day because it's tacky, crassly commercial and because those giant pink teddy bears aren't the least bit sexy. Also because holding such bolshy views on official day of lurv means no V-Day flowers or schmaltzy cards ever (damn it).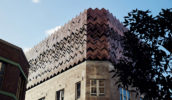 3 pm Saturday – The Town Hall Hotel, Newtown 
Assemble she-troops at local pub for declaration of mission statement and afternoon pool. Lined up at bar are girlfriend who Bonks Anything That Moves, girlfriend who Flashes When Drunk, girlfriend with Loudly Ticking Biological Clock, girlfriend who Never Shuts Up About Brad Pitt, girlfriend who Has Dream Boyfriend, girlfriend who is Miserably Married and girlfriend who is Infuriatingly Moderate Drinker (oh, okay, maybe last one is me).
Rack up pool table and commence game with gang of local lads. Local lad misses and suggests Miserably Married is deliberately distracting with plunging cleavage. Miserably Married bursts into tears. Says husband hasn't noticed cleavage in decades. Buy second round and toast freedom, independence and buying Miserably Married's obviously blind husband a pair of glasses. Move on after suffering industrial deafness from sport on loud pub TVs and industrial blindness from psychedelic swirls in loud pub carpet.
4.45 pm – Kuleto's Bar, Newtown
Battle rival girls' night out for prime table and debate pros and cons of stereotypical girls' night out cocktail. (Pros: Has zillions of paper umbrellas and cuts out middle man when it comes to extreme intoxication. Cons: Has zillions of paper umbrellas and cuts out middle man when it comes to extreme intoxication.)
Infuriatingly Moderate Drinker gives annoying speech about liver issues, prompting Never Shuts Up About Brad Pitt to launch swizzle stick missile attack. Miserably Married sips watermelon daiquiri then commences familiar "woe is me" monologue. Loudly Ticking Biological Clock says at least Miserably Married has ready sperm supply. Says she is seriously considering turkey basting. Fun girls' night out descends into gloomy silence. Has Dream Boyfriend – clearly feeling guilty about dream boyfriend business – tells Miserably Married to look on bright side: only one hour until bondage school.
5.30 PM – The Rose Hotel, Chippendale
Assume perving positions in Rose Hotel beer garden and decide most of fellow drinkers – including girls – look like John Butler from John Butler Trio. Bonks Anything That Moves says perving is ultimate form of safe sex. Has Dream Boyfriend says under no circumstance is Bonks Anything That Moves to bonk anything that moves tonight. Says this party is all about celebrating sisterhood and having bonza time without boys. Never Shuts Up About Brad Pitt asks whether her wallet photo of Pitt can count as honorary girl. All concur.
6.30 pm – The Domina Reform School, Surry Hills
Knock nervously on door of Domina Reform School and meet "chief executive bitch" Mistress J, who is wearing leather twin set and baring riding crop. Mistress J confirms we are booked for Junior Mistress of the Boudoir Party Pac and leads us up steep stairs to dungeon to meet bloke called Slave Andrew, who is starkers except for black gimp hood. Lesson starts with "tie and tease" using Slave Andrew as teaching tool. Next two hours pass in happy daze of bondage, body slides and basic spanking. Has Dream Boyfriend admires studded paddles. Flashes When Drunk covets nipple clamps. Bonks Anything That Moves digs putting-condom-on-carrot-with-mouth lessons (says it will come in handy next time she hits on vegetable crisper). Miserably Married, meanwhile, is extra interested in something called "cock and ball torture" and makes extensive diagrams on how to secure scrotums with shoelaces. Says she has had "eureka" moment vis a vis marriage issues. Get sample bags, graduation photographs and Junior Mistress of the Boudoir certificates and leave convinced Valentine's Day has been well and truly whipped into shape.
8.45 pm – Maya, Surry Hills
Arrive at Maya vegetarian restaurant on Cleveland Street and order obscene spread of Punjabi thalis, masala dosas, mango lassis and canary-yellow samosas in plastic picnic plates. Decide dirt cheap Indian is the anti-Valentine's Day meal of choice because a) it looks disgusting, b) it tastes amazing, and c) it's incredibly high in ghee-related calories. "Plus you're allowed to eat it with your hands," adds Bonks Anything That Moves, proudly displaying stained yellow fingers and face dripping with chutney. Loudly Ticking Biological Clock says – despite steamy kitchen scene in Nine ½ Weeks – no food is good food for romance. Says whenever she's out with someone new she's too nervous to eat a thing. Never Shuts Up About Brad Pitt says maybe Loudly Ticking Biological Clock would be more relaxed if she didn't insist on trying to conceive on first date.
9.45 pm – Mocean, Bondi
Haul distended bellies and yellow digits into taxis and head off to groovy Mocean on main drag of Bondi Beach. Underground bar is full of beautiful people who all look vaguely familiar. Has Dream Boyfriend wonders if this is because she's seen them on her telly; Bonks Anything That Moves wonders if this is because she's seen them leaving her flat on a Sunday morning, provoking feisty Sex and the City-esque argument about nature of intimacy. Has Dream Boyfriend accuses Bonks Anything That Moves of using sexcapades to avoid relationship. Bonks Anything That Moves accuses Has Dream Boyfriend of using relationship to avoid sexcapades. Infuriatingly Moderate Drinker breaks up biffo by pointing out that entire bar is full of smoochy girl-boy couples. Says even she – queen of cynics – is jealous. Suggests seeing how other half lives by crossing town to Slip Inn – pub where Princess Mary picked up royal dude from Denmark.
10.45 pm – The Slip Inn, Sydney CBD
Scan room for potential Princes but (as usual) get distracted by arcade games in side room. Pass enjoyable half-hour shooting cyber bad guys and drinking more beer before deciding to return to rock 'n' roll roots in trendy inner-west of city. Consult gig guide and toss up between Butchered Babies at Marquee or Zombie Ghost Train at Annandale. Decide anti-Valentine vibe can be taken too far and opt for latter.
11.45 pm – The Annandale Hotel, Annandale
Push through sea of pierced lips, stretched earlobes and blue mohawks. Note interesting fusion of punk, rockabilly and fetish fashions and wonder if correct term for this sub-culture is neo punkabilly. Jump round to Zombie Ghost Train and feel very much at home. Loudly Ticking Biological Clock tells Never Shuts Up About Brad Pitt she's considering becoming sperm raider and assesses genetic potential of nearby male with slicked-up quiff. Has Dream Boyfriend confesses Dream Boyfriend was actually Hell Boyfriend before couples counselling and gives Miserably Married name of guru therapist. Bonks Anything That Moves swaps phone numbers with cute guy with skull neck tattoos but swears to abstain until later. Flashes When Drunk loses boob tude in mosh pit but swears it was accident.
Infuriatingly Moderate Drinker surveys scene and decides all is well in world. Buries hatchet with official day of lurv and proposes toast to Valentine's Days everywhere – even those celebrated without joys of beginner bondage, budget curry and beloved friends.
DETAILS: Anti-Valentine's Girls' Night Out
Town Hall Hotel 326 King Street, Newtown (02) 9557 1206
Kuleto's Bar 157 King Street, Newtown (02) 9519 6369
The Rose Hotel 54 Cleveland Street, Chippendale (02) 9318 1133
The Domina Reform School (For Good Girls Who Want To Be Bad) Junior Mistress of the Boudoir Party Pac, $100 per head www.dominareformschool.com
Maya Dhaba Restaurant 431 Cleveland Street, Surry Hills (02) 8399 3785
Mocean Restaurant & Underground Bar  Shop 1/34 Campbell Parade, Bondi Beach (02) 9300 9888
The Slip Inn 111 Sussex Street, CBD (02) 8295 9999
The Annandale Hotel Parramatta Road (cnr Nelson St), Annandale (02) 9550 1078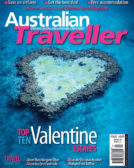 Enjoy this article?
You can find it in Issue 7 along with
loads of other great stories and tips.