If you've read the latest issue of AT, you'll know that one of the hottest openings in Sydney was Chef Sujet Saenkham's second restaurant in Darlinghurst Spice I Am. Blissfully oblivious to the venue's name, AT 's Solveig Walkling and dinner partner were treated to an unexpected tastebud explosion this month.
After starting the evening with a chef's recommendation, steamed mini rice paper parcels, which left my dinner partner breaking into a sweat and reaching for his wine, we were careful in our selection of main courses. Pointing to the parcels, we use them as a measure of spiciness, asking the waiter if he would call them hot. A baffled look and a "no, not at all", lead us to ask for a "toned down" version of everything we order. (We're told the proud chef exclaimed "But how will they enjoy it?", when asked to use a smidgen less spice, which teaches me I'd better start training by eating one chilli a day for at least a week before I venture near Sujet's delectably hot dishes.)
Seated next to a Melbourne chef with Thai background, I am treated to background on the right way to prepare traditional dishes and find out just what makes tonight's dishes special. For the uninitiated like me, it all comes down to using the right ingredients. Sujet prides himself on using only fresh ingredients – down to foregoing tinned coconut milk. He has also brought his mother's traditional recipes to the Australian audience.
One of our three main courses, a banana flower salad with prawns so beautifully presented it looks like a word of art, is apparently very authentic and not available at any other Thai restaurant in Australia. (I hope it was my neighbour's expertise talking and not the second bottle of wine.) It also brings our tastebuds cooling relief from the other two main courses, a whole snapper swimming in a bed of spices. At first, my tastebuds are reeling from the "mild" dose of chilli and I need a mouthful of rice and banana flower to muffle their screams. I am glad that I dare tuck into it again after strengthening my resolve with a sip of wine, as I discover one of the secrets to Thai cuisine: the various spices in every dish only hit your palate as you keep mercilessly exposing your palate to its chilli. My snapper starts tasting of the green peppercorns copiously strewn across the fish after another few brave mouthfuls and by the time I feel as if I would like to behave very unladylike and lick my plate clean, I can distinguish the flavour of lemongrass and a mix of other less aggressive spices.
By the time I get started on our third main course, the green beef curry highly recommended by my neighbour, my dinner partner's deeply red face with beads of sweat on his forehead warns me to proceed with caution and I bed the curry on a big heap of rice. Even so, just the tiniest mouthful sets my tongue and lips on fire and I listen with a stunned look (and slightly open mouth), as my neighbour tells me that the green curry is one of his favourite dishes. (Pork belly is another, so if you like spice, that might be your choice.)
Before dessert and to cool our tastebuds, we decide to try two of Sujet's most popular cocktails: Holy Bangkok and Naked Native. The former a kind of a Thai version of a spicy Bloody Mary and the latter is a milky consistency over crushed ice and with a red flower on top which slowly infuses the cocktail with a tangy lemon flavour and red colour as I sip it. My dinner partner says the cocktail tastes almost like chocolate mousse but I would go as far as saying it is much better than the French signature dessert and worth a try.
It barely prepares me for what comes next: a tasting platter of Sujet's desserts. M neighbour warns me that Thai restaurants simply do not know how to prepare desserts (this is apparently due to the fact that they don't traditionally have dessert), but I have a mouthful nevertheless. While not all of them agree with my Western tastebuds – onion doesn't exactly scream sweet indulgence, if you ask me – I discover that Thai ice cream can rival Italian gelato. The coconut ice cream is filled with crunchier bits of frozen coconut on the inside and combines all consistencies you could possibly imagine: gooey sticky rice, crunchy taro on top and crushed peanuts on the side. For a self-confessed sugar addict, this dessert is a stairway to heaven. (And not to be shared with dinner partners, if you can avoid it.)
To celebrate the opening of Spice I Am and the start of his winter menu, Chef Sujet Saenkham has lend us this tasty recipe for our readers to try at home.
Kaeng tom yum ped (tum yum kati roasted duck)
Serves 2
For The Paste:
30g Shallot
30g peeled garlic
10 small dried chillies
Method
Roast all three ingredients together till well cooked (but not burnt) and then blend into a paste.
Ingredients
300 ml coconut cream
150 ml chicken stock
1tbs palm sugar
2tbs tamarind pulp
2tbs fish sauce
1ts lime juice
200g roast duck meat
1 stalk chopped lemongrass
4 torn kaffir lime leaves
30g chopped coriander leaf
50g chopped oyster mushrooms
Spicy paste mixture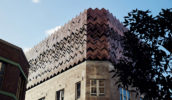 Method
Boil the coconut milk then add stock. Bring the stock and milk mixture back to the boil then add the paste above that you have set aside.
Add the tamarind, sugar, fish sauce, and then add the mushrooms and duck meat. Bring to boil one more time and just before serving add the lemongrass and kaffir lime leaf.
Serve with rice and coriander.