Chanel Gallen joins Two Feet and a Heartbeat, a walking tour of inner-Sydney's hippest bars – most of which she hadn't even heard of beforehand. (Photos: Nigel Herbert)
As a self-proclaimed cocktail expert and 'somewhat' Eastern Suburbs socialite I had prided myself on my knowledge of the newest bar hot spots popping up around Sydney.
My bar-boasting, however, has been toned down a notch after heading along to Two Feet and a Heartbeat's small bar walking tour – and discovering four out of the five venues we visited, I hadn't even heard of.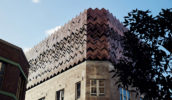 Our tour kick-off spot is Shirt Bar (7 Sussex Lane). Pushing open the door I feel like I've climbed into dad's walk-in closet.
Rows of crisp, colourful shirts line the wall. A bright collection of ties and cufflinks vie for my attention.
The bar area even looks like a wardrobe with rich timber shelves and drawers, but instead of housing socks and undies there's an impressive selection of whiskey and tequila on display.
Shirt Bar's concept is quirky: purchase a shirt off the rack or book in for a bespoke fitting for around $280 and sip on a beverage while you're measured up.
After saying hello to Two Feet & a Heart Beat co-founder Ryan and getting acquainted with the rest of my group, we have just enough time to sample Shirt Bar's home-ground espresso martini.
Then it's off to the next small bar. Nothing like some Wednesday evening express bar-hopping.
Uncle Ming's (55 York Street) could easily be missed if you didn't know the run-down old bike chained against a street lamp marks the entrance.
The underground interior is roomy with different themes for each space including 1920's Shanghai and 1960 Hong Kong.
Sipping on a lemongrass and chili-infused cocktail that's served from a teapot, I do a few laps around the room noticing different eccentricities each loop. Woks fashioned into lamps, a glowing Chinese duke box and photos of Asian gangsters in Sydney dating back to the 1920s.
Mojo Record Bar is next (73 York Street). It sells vinyls out the front and beers out the back. I'm not a beer drinker but the pale ale I'm handed is smooth and washes down nicely. One thing I am a fan of are the bar snacks, Burger Rings and Toobs; a nice change from the generic bowl of peanuts.
The walls are plastered with posters and record covers of music greats, the likes of Elvis, The Beach Boys and Bob Dylan, who also ring out from the speakers.
On the way to our next petit bar I strike up a conversation with Ryan who tells me small bars have been springing up around Sydney like wildfire since the liquor licence was changed for smaller venues.
Behind the push was Sydney City Lord Mayor Clover Moore who saw a diverse nighttime economy would help curb a rise in antisocial, drunken behaviour and late-night violence.
There are now more than 100 of these quaint watering holes filling up the CBD and outlying suburbs.
We stop in for a drink at S&G (a.k.a. Spooning Goats, 1/32 York Street). Owner Jason explains he came up with the name after inheriting his nan's spoon collection. He's also a fan of goats.
The S&G has a real garage vibe. An eclectic selection of couches are scattered through the otherwise bare room. An old Galactica machine sits in the back corner with the highest point scorer scrawled on a blackboard beside it.
I snack on spiced Nutra-Grain (nan's homemade recipe) and the drinks served from jam jars are tart and refreshing.
The night is getting late so we push onto our final venue Since I Left You (338 Kent Street). The heritage listed building oozes charm; candles flickering along the cobblestone path of the original carriageway.
It's probably the smallest bar we've visited all night but the space is used well. It's not overcrowded with furniture, however, you've got to get in early to snag a perch. We grab a table and owner Elvis joins us, explaining the renovations are DIY.
'There's 750 nails in the pressed metal roof' he proudly exclaims.
Having lost count of the beverages consumed and full of bar snacks I call it a night but I'm already planning Friday night drinks at my new-found haunts.
NB: Uncle Ming's is no longer on Two Feet and a Heartbeat's itinerary. It is due to be replaced by another cool bar.