The rent may be sky-high in Surry Hills – and the restaurants multiple – but one seemingly undiscovered hub has taken the crown as the number one neighbourhood in not just NSW – but the whole of Australia…
The Australian Traveller 100 series are viewed as somewhat of an institution for people with an interest in exploring our vast country. From 100 places to visit before you die, to the 100 things to do in Australia that you've never heard of before – these annually-devoured lists have a habit of getting lesser known destinations on the map… so to speak.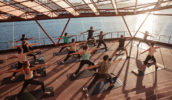 This year, the task was set to find the 100 most awesome places to hang out a little longer in Australia – sounds easy right? Well, with 10 categories set, it was up to the Australian Traveller team to first choose ten finalists for each category – and then take on the hard task of ranking them.
From camping spots to idyllic islands, alternative capital cities to foodie favourites, the final list has been set – and honestly? A couple of the placements could be viewed as a little… shall we say… controversial.
None more so than the place awarded the coveted number one spot on the list of 10 best neighbourhoods to hang out in. Normally a no-brainer to take out the number one spot in any ranking, this year Sydney's Surry Hills tumbled into the number five spot. Oh the horror…
It seems Surry Hills fell to make way for the up-and-coming suburb of Chippendale – and perhaps for good reason.
Rife with galleries and a laid-back vibe that makes it a seriously sought-after address for Sydneysiders, Chippendale also combines a Melbourne-esque coffee scene with a cool, Surry Hills-style culture. It's an amalgamation of some of Australia's most popular spots to date, and magically, it's managed to remain somewhat of a secret to mainstream folk.
However, we have a feeling that may soon change…
Three must-visit spots in Chippendale:
White Rabbit Gallery: filled with contemporary Chinese art with a definite Western pop culture twist, this gallery is the perfect place to show an appreciation for contemporary art, as the gallery focuses on art produced after 2000 – a time the director, Judith Neilson, likens to the 'Big Bang'.
Kensington Street: forget the indecisiveness that comes with attempting to choose a restaurant for a night out – Kensington Street has it all. From the quaint gin bar, Gin Lane, that looks like something from a cafe hidden in a picturesque Parisian street, to the incredible ice-cream creations, for lack of a better word, at Koi Dessert Bar just down the road (mind the crowds of people lining up). One visit will show you that this lantern-lit street really does have it all.
Old Clare Hotel: spread across two heritage-listed buildings, you may not be aware that the 'Old' Clare Hotel is actually revitalised. Complete with refurbished rooftop pool, immaculate exposed-brick rooms and stunning modern bathrooms, you'd be forgiven for failing to recognise the 'Old Clare'. The brand new bar is bustling with the youth, who in addition to the shiny new elements of the space, are just as attracted to the rustic, poster-painted interior of this much-loved space.