***Created in partnership with our sponsor HotelTonight***
Not many people can say they have floated under Sydney's Harbour Bridge in a bubbling rooftop Jacuzzi, a glass of bubbles to their lips, on top of a floating hotel fashioned from two shipping containers.
A night like this in HotelTonight's pop-up Spontaneity Suite will cost you $36,000 – if you can secure it for one of the seven nights it will be in Sydney (until Tuesday, 17 November).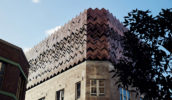 Except, that is, on Saturday and Sunday (14-15th) when the price drops to just $99 – bid on the HotelTonight app between noon and 2pm on those days to be in the running to stay the night.
The one-roomed 'float-el', which debuted on the terra firma of Yarra Valley in August, is moored in Athol Bay (below Taronga Zoo) during the day, offering whole-of-Sydney-skyline views from your bedroom, while at night it's slowly towed to the tranquil waters of Woolwich or Darling Harbour.
Coco Republic has decked it out, the quirky interior replete with strong shapes, inventive lighting techniques, wooden floors and fun touches like hashtag pillows.
It's a difficult decision as to where to spend your time: the free-standing stone bathtub, the Jacuzzi or relaxing on the spacious entertaining deck.
The transfer from Ovolo Hotel in Woolloomooloo Bay is luxury personified – aboard $250,000 worth of classic Italian wooden speedboat (as seen in The Bachelor).
What else do you get for your $36,000?
Pretty much anything you want, thanks to the Aces personal mobile concierge, from which you can order meals and incidentals, and ask for tips to help you find chic local spots of note.
The extensively stocked mini bar is, of course, all taken care of, as are meals, delivered fresh by boat from the Ovolo (which fully services the suite). Apple TV and Netflix complete the package.
And where does your $36,000 go? The funds will go to food rescue charity OzHarvest.
Where will the Spontaneity Suite pop up next? Watch this space…
Special introductory offer
Use the code 'TryMe' to save $30 on your first booking on HotelTonight, a free app that helps you find quality hotels, vetted by its discerning team. As the name suggests, book on the day or up to seven days ahead. See hoteltonight.com or the App Store.